Main content starts here, tab to start navigating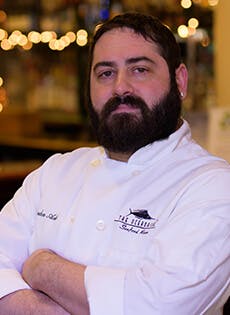 Brandon Adler
Baltimore - Executive Chef
As with most chefs, Brandon began his culinary adventure at the ripe age of 14 working as a dishwasher at a Baltimore restaurant. During this time he learned to enjoy the fast-paced and fun-filled environment of a restaurant; it was not long until he found his way into the kitchen and developed his passion for cooking. Chef Brandon's journey eventually led him to Oregon, where he honed his skills and grew a love for Asian cuisine – partly because of its similarities to his southern cuisine background.
After a handful of years, Chef Brandon returned to his hometown of Baltimore and took a job with local chef and restaurateur Nancy Longo of "Pierpoint" restaurant. It was there in her quaint kitchen that Brandon developed into the chef he is today.
In the fall of 2011, Brandon made his way to The Oceanaire Baltimore, where he started as a line cook. Under the watchful eye of Chef Joe Pastore, Brandon worked his way to executive chef. "It is truly an honor and a privilege to be able to be a leader at such a wonderful place such as The Oceanaire," Chef Brandon says.
Brandon's cooking is much like his personality "big and bold." His use of creole ingredients like chiles, hearty greens and Cajun spices speaks to his "soul food" dishes he creates daily for The Oceanaire.