Main content starts here, tab to start navigating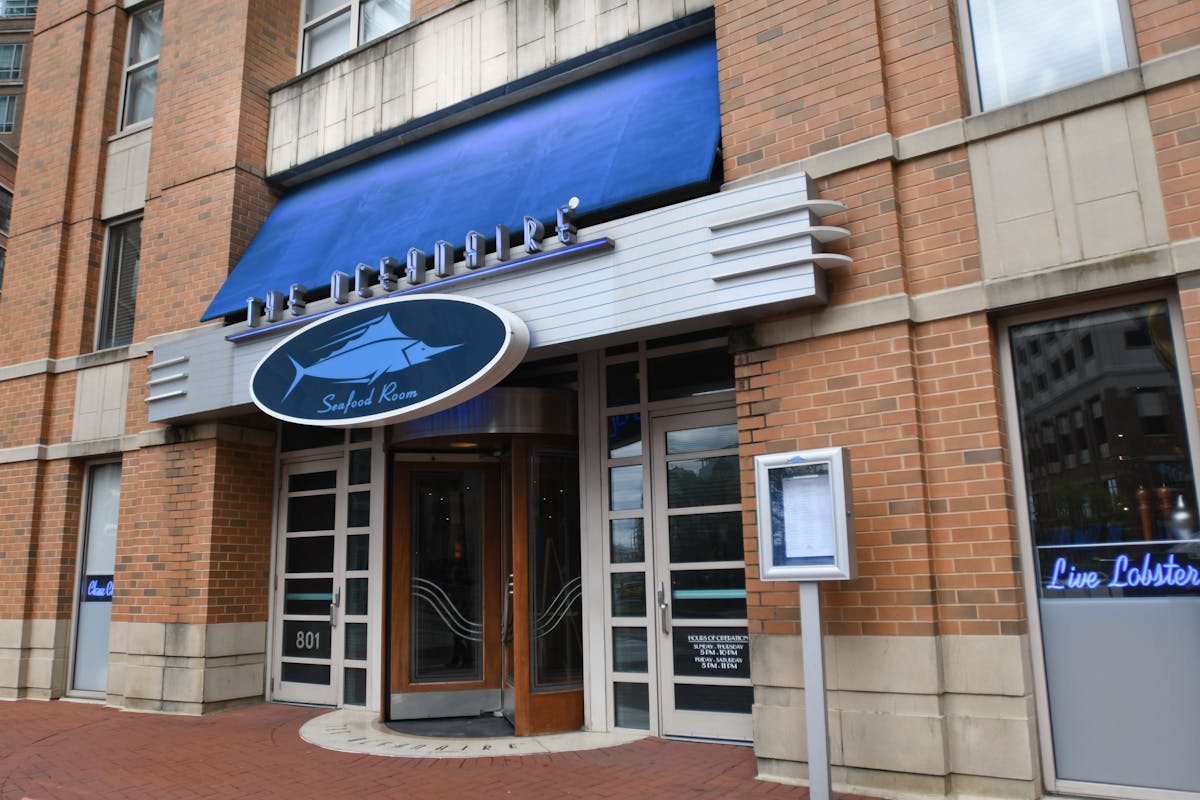 Slide 1 of 4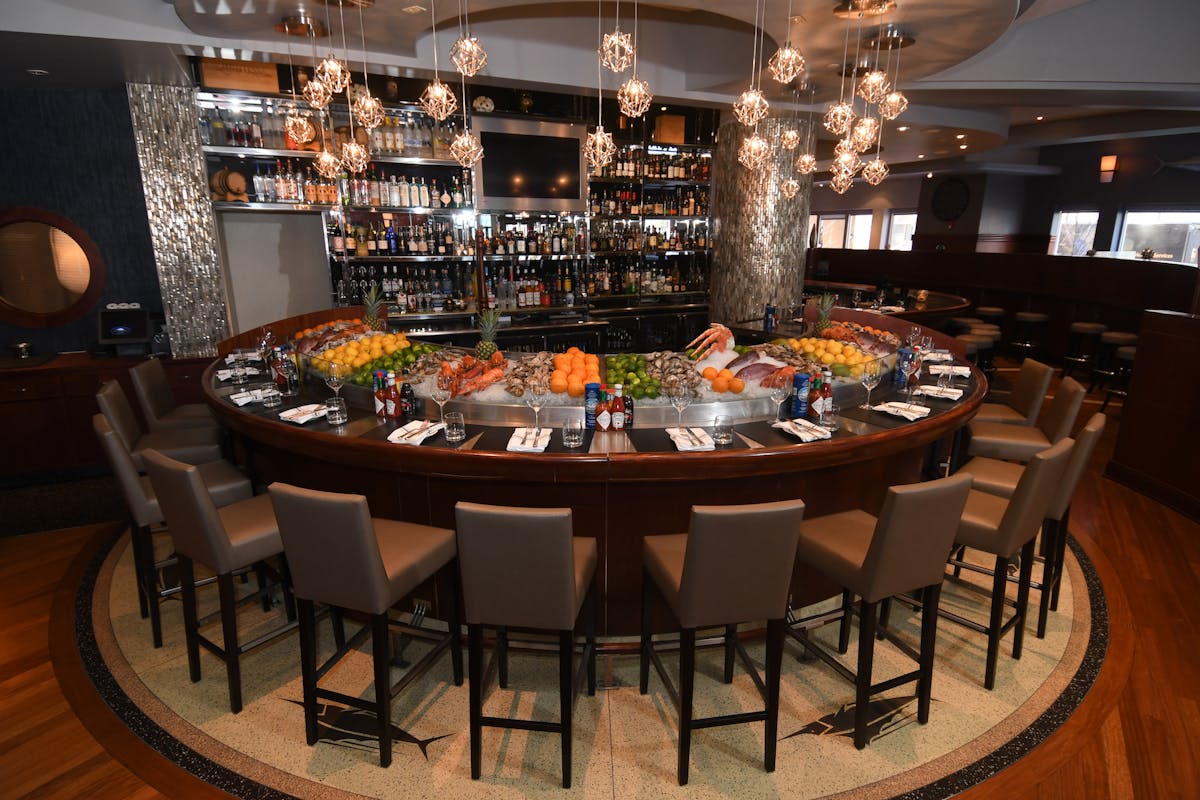 Slide 2 of 4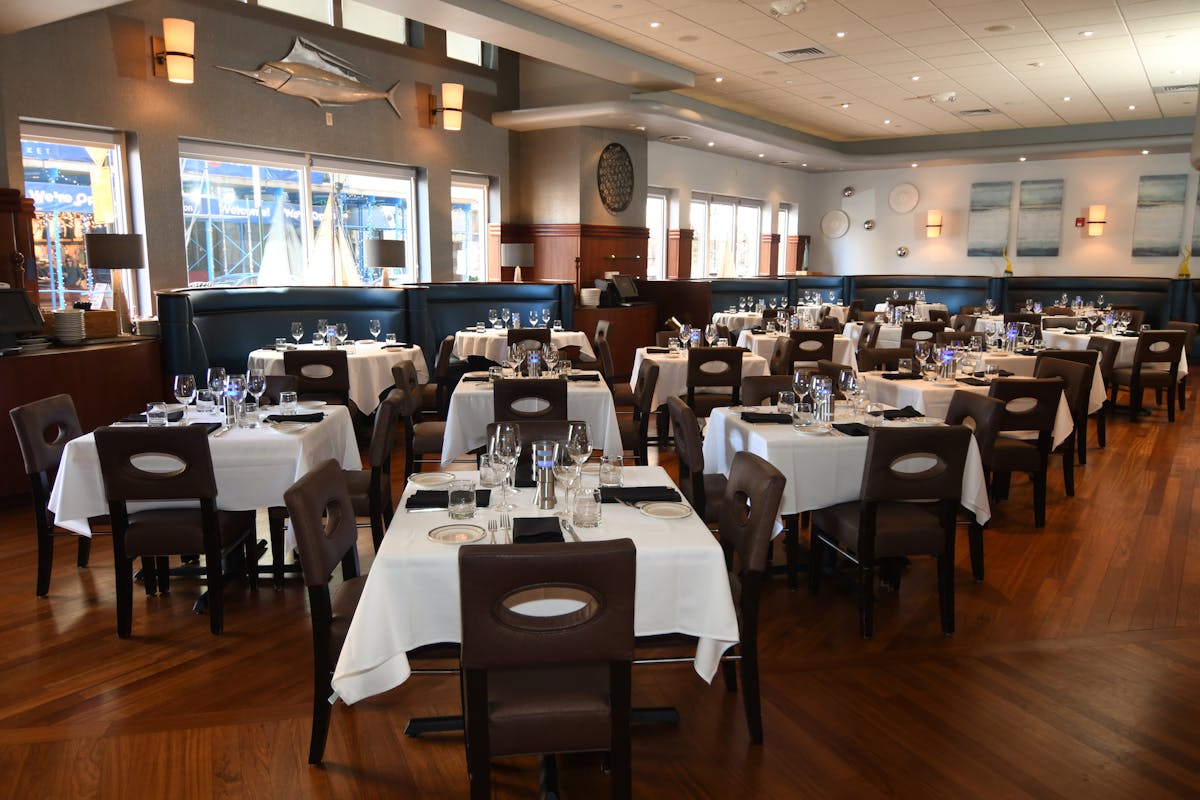 Slide 3 of 4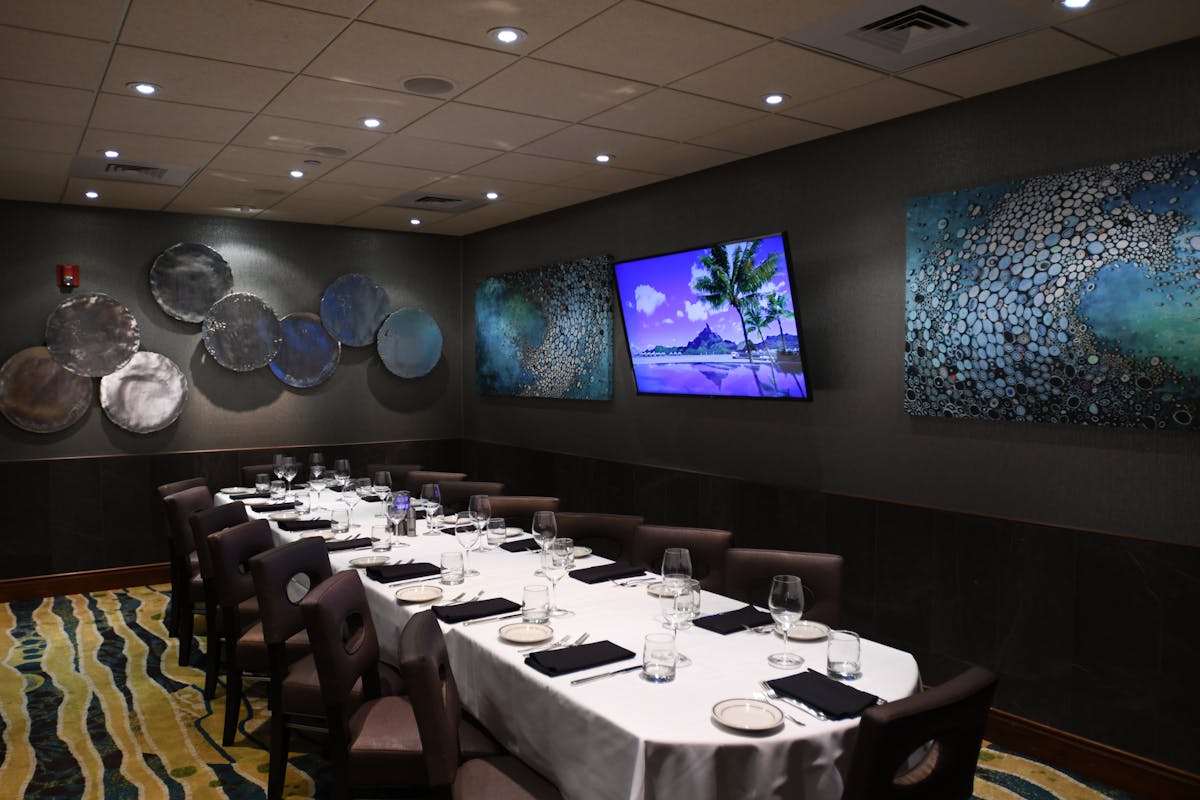 Slide 4 of 4
Dining Room Now Open!
As we reopen our dining rooms, we will continue to practice and take part in preventative measures to ensure the safety of you and your family. We look forward to serving you once again.
Menus
Oysters
*SAVAGE BLONDES

P.E.I.

$4

*WELLFLEET

MASSACHUSETTS

$4

*OCEANAIRE PEARLS

MASSACHUSETTS

$4

*GREAT WHITE

MASSACHUSETTS

$4

*BEAVERTAILS

RHODE ISLAND

$4

*RASPBERRY POINT

P.E.I.

$5
the raw bar
A CUSTOM PLATTER FEATURING OUR RAW BAR OFFERINGS
Siberian Black Osetra Caviar

$75

Imperial Gold Osetra Caviar

$175

Colossal Lump Crabmeat Cocktail

$32

Jumbo Shrimp Cocktail

$24

Caviar Dressed Chef Select Oysters

$36

Maine Lobster Cocktail

$56
Appetizers
Spicy Tuna Poke

Crispy Wontons, Wasabi Emulsion

$21

Grilled Oysters Rock

Spinach Persillade, Nueske's Bacon, Parmesan

$24

Chesapeake Bay Style Crab Cake

Mustard Mayonnaise

$26

Shrimp & Grits

Cajun Butter Sauce

$19

Spicy Tempura Laughing Bird Shrimp

Diablo Glaze, Avocado Aioli

$22

BUTTERMILK FRIED CALAMARI

LEMONS, JALAPENOS, SOY CHILE SAUCE

$19

HUDSON VALLEY FOIE GRAS

DEHYDRATED APPLES, MOLASSES, WHITE BALSAMIC GLAZE, ALMONDS

$22

CHEESE BOARD

WENSLEYDALE PEAR & APPLE, MOODY BLEU, RED DRAGON, APPLE BUTTER, HONEY COMB, PICKLED MUSTARD SEEDS, ROSEMARY SEA SALT CRACKER, CORNICHONS

$32

CHARRED SPANISH OCTOPUS

AJI AMARILLO AIOLI, PERUVIAN PURPLE POTATO, CHORIZO ESPANOL, CRISPY SHALLOTS

$25

BRAISED LAMB RIBS

HARISSA YOGURT, CHARCOAL POTATO, TOMATO GLAZE

$22

Oceanaire Classic Sourdough Bread And Relish Tray

$4
Soup & Salad
New England Clam Chowder

Smoked Bacon, New Potatoes, Westminster Crackers

$13

MARYLAND CRAB SOUP

TOMATO BROTH, MIXED VEGETABLES, CLAW MEAT

$15

Seafood Chopped Salad

Crabmeat, Shrimp, Feta Cheese, Greek Vinaigrette

$28

Chopped House Green Salad

Oceanaire Vinaigrette

$12

Caesar Salad

Croutons, Shaved Parmesan

$12

Iceberg Lettuce Wedge

Bacon, Tomato, Bleu Cheese Dressing

$13

KALE AND BEET SALAD

GOAT CHEESE, PICKLED SHALLOTS, WALNUTS, CRANBERRY-MOLASSES VINAIGRETTE

$13
Chef's Specialties
Chesapeake Bay Style Crab Cakes

Mustard Mayonnaise

$50

Seared Sesame Crusted Yellowfin Tuna

Seaweed Salad, Pickled Ginger, Caramel Soy, Wasabi

$43

Premium Red King Crab

Served With Drawn Butter, per LB

$125

*SABLEFISH 'BLACK COD' CASSOULET

SMOKEY TOMATO, CANNELLINI BEANS, MERGUEZ SAUSAGE

$70

*"ORA" KING SALMON IMPERIAL

JUMBO LUMP CRABMEAT, ASPARAGUS

$70

*NEW ZEALAND RACK OF LAMB

WHOLE GRAIN- DIJON CREAM SAUCE, NUESKEES BACON, CIPOLLINI ONIONS, GREEN BEANS, TINY CARROTS

$60

*WHOLE HOLLAND DOVER SOLE

A LA MEUNIERE

$85

*HUDSON VALLEY DUCK BREAST

SWEET POTATO PUREE, TUXEDO ORZO, BLACK CHERRY SAUCE

$45
Chef's Specialties
*10 OZ. CENTER CUT FILET MIGNON IMPERIAL & 6 OZ. LOBSTER TAIL

SHERRY CREAM SAUCE & DRAWN BUTTER

$100
Chef's Specialties
28 Day Dry-Aged Certified Angus Beef Ribeye

14 oz.

$69
Simply Prepared
Brushed With Lemon Butter
*YELLOWFIN "AHI" TUNA

$40

SABLEFISH 'BLACK COD'

$60

*WILD MARYLAND ROCKFISH

$45

*WHOLE HOLLAND DOVER SOLE

$85

*NEW ZEALAND "ORA" KING SALMON

$40

Jumbo Massachusetts Sea Scallops

$59

Live Maine Cold Water Lobsters, per LB

$45

14 oz. West Australia Lobster Tail

$119
Prime Steakhouse Cuts
Usda Certified Prime Beef
6 oz. Center-Cut Filet Mignon

$40

10 oz. Center-Cut Filet Mignon

$55

16 oz. Prime New York Strip

$62

22 oz. Prime Bone In Ribeye

$68
Enrichments
Lump Crab Louie

$16

Cold Water Lobster Tail

$28

TRUFFLE BUTTER

$15

CRAB IMPERIAL

$25

*TRIO OF JUMBO MASSACHUSETTS SCALLOPS

$36
Sides
Truffle Whipped Potatoes

$14

Grilled Asparagus

$14

Hashed Browns

$14

A'la Oceanaire – ADD $3

Creamed Corn

$14

Shrimp Fried Rice

$18

Sautéed Spinach

$14

Lobster Mac & Cheese

$35

CRISPY BRUSSELS SPROUTS, HERB TAHINI, CASHEWS

$15

CRAWFISH & ANDOUILLE RISOTTO

$24
Oyster Service Martini
Oyster Service Martini

A caviar dressed oyster paired with a chilled Martini of Helix Vodka or Askur Gin from Iceland

$18
Cocktails $16
Appletini 2.0

Crown Royal Regal Apple Whisky, Ketel One Vodka, Fresh Lime Juice, Granny Smith Apple

Barrel-Aged Manhattan

George Dickel Rye, Carpano Antica Formula Sweet Vermouth, Fee Brothers Peach Bitters. Aged in White Oak Barrels For 90 Days; Stirred and Served Over a 2x2 Ice Cube

Espresso Martini

Grey Goose Vodka, Kahlúa, Espresso, Espresso Beans

Guava Daiquiri

Bacardi Superior Rum, Monin Guava Syrup, Pineapple Juice, Fresh Lime Juice

Stout Old Fashioned

Bulleit Rye Whiskey, Guinness Syrup, Angostura Bitters, Orange Peel

Nouveau Paloma

Calirosa Rosa Blanco Tequila, Pink Grapefruit, Liber & Co. Grapefruit Shrub, Calabria Moscato

Spiced Pear Mule

Grey Goose La Poire Vodka, St. George Spiced Pear, Fresh Mint, Fresh Lime Juice, Fever-Tree Ginger Beer

Oceanaire 2.0

Our Signature Cocktail made with Bacardi Superior Rum, Domaine De Canton Ginger, Fresh Lime Juice, Monin Banana Syrup, and Bols Blue Curacao

Perfect G n T

Hendrick's Gin, St-Germain Elderflower Liqueur, Fever-Tree Tonic Water

St. Remy White Sangria

St. Rémy VSOP Brandy, Mango Puree, Honey Syrup, Fresh Lemon Juice, Pinot Grigio

Sea Pearl

Grey Goose Vodka, St-Germain Elderflower Liqueur, Blue Raspberry Syrup, Lemon Juice and La Marca Prosecco. Garnished with Star Fruit and Edible Pearl

Pipe Dream

Wild Turkey Longbranch Bourbon, Aperol, Liber & Co. Blood Orange Cordial, Fresh Lemon Juice. Served in a Pipette with Dehydrated Blood Orange.

Dragon Highball

Wheatley Vodka, Monin Dragon Fruit Syrup, Fresh Lime Juice, Fever-Tree Lime Yuzu Soda. Garnished with Dehydrated Dragon Fruit

Third Marriage

Hendrick's Gin, St. George Spiced Pear Liqueur, Vanilla Reàl and Lemon Juice Topped with Calabria Moscato. Finished with a Spritz of Proprietary "Winter Perfume"

Gris Gris

Crown Royal Deluxe, Bulleit Bourbon, Ancho Reyes Verde Liqueur, Piña Reàl, Lime and Lemon Juice, Honey Syrup. Served in a Pineapple Vessel.
Sparkling
La Marca, Prosecco, Prosecco DOC

$14

Chandon Brut Classic 187, Sparkling, California

$19

Albert Bichot, Crémant de Bourgogne, Rosé

$14

Nicolas Feuillatte, Brut 187, Chouilly

$27

Nicolas Feuillatte, Rose, Brut 187, Chouilly

$31

Calabria, Moscato, Riverina

$14
White
Pebble Lane, Chardonnay, Monterey County

$13

Ellery Allyn, "The Nantucket", Chardonnay, Russian River Valley

$17

Sonoma-Cutrer, "Russian River Ranches", Chardonnay, Sonoma Coast

$18

Siduri, Chardonnay, Willamette Valley

$20

David Finlayson, "Camino Africana", Chenin Blanc, Stellenbosch

$15

Confini, Pinot Grigio, Venezia

$13

Santa Margherita, Pinot Grigio, Alto Adige DOC

$17

Freak No. 33, Riesling, Clare Valley

$15

Love Block, Sauvignon Blanc, Marlborough

$16

Duckhorn, Sauvignon Blanc, North Coast

$18
Rosé
Pebble Lane, Rosé of Pinot Noir, Monterey County

$13

Rumor, Rosé, Provence

$19
Red
Achaval Ferrer, Cabernet Franc, Mendoza

$14

Pebble Lane, Cabernet Sauvignon, Monterey County

$13

Austin Hope, "B20", Cabernet Sauvignon, Paso Robles

$16

Raymond, "Primal Cut", Cabernet Sauvignon, North Coast

$19

Toby Tylor, Cabernet Sauvignon, Napa Valley

$20

Viña Cobos, "Felino", Malbec, Mendoza

$15

14 Hands, Merlot, Columbia Valley

$13

Daniele Conterno, Nebbiolo, Langhe

$19

Pebble Lane, Pinot Noir, Monterey County

$13

Mt. Difficulty, "Roaring Meg", Pinot Noir, Central Otago

$16

Vermillion, Red Blend, California

$21

The Harrison, Pinot Noir, Willamette Valley

$18
$99
Palmer and Company, Brut, Champagne, Reims

Daou, "Reserve", Cabernet Sauvignon, Paso Robles
$125
Chateau Montelena, Chardonnay, Napa Valley

Hoopes, Cabernet Sauvignon, Napa Valley
$149
Chateau Montelena, Cabernet Sauvignon, Napa Valley

Orin Swift, "Papillon", Red Blend, Napa Valley

Duckhorn, Cabernet Sauvignon, Napa Valley

Cakebread Cellars, Cabernet Sauvignon, Napa Valley
Premium Pours By Coravin™
Cabernet Sauvignon, Adaptation, Napa Valley

$35

Cabernet Sauvignon, Hall, "Coeur", St. Helena

$35

Cabernet Sauvignon, Shrader, "Double Diamond", Napa Valley

$50

Cabernet Sauvignon, The Prisoner, Napa Valley

$30

Chardonnay, Gran Moraine, Yamhill-Carlton District

$25

Chardonnay, Paul Hobbs, Russian River Valley

$40

Chardonnay, Simonnet-1er Cru Vallions, Chablis, Burgundy

$35

Pinot Noir, Belle Glos, "Clark & Telephone", Santa Maria Valley

$25

Pinot Noir, Patz & Hall, "Hyde Vineyard", Carneros

$40

Red Blend, Justin, "Isosceles", Paso Robles

$50
Bespoke Classics $25
Millionaire Margarita

Casamigos Reposado, Grand Marnier, Orgeat, Agave Syrup, Fresh Lime Juice

Royal Side Car

Rémy 1738 Accord Royal Cognac, Cointreau, Fresh Lemon Juice, Cinnamon Sugar Rim

Black Tie Espressotini

Absolut "Elyx" Vodka , Café Borghetti Espresso Liqueur, Baileys Irish Cream, Cocoa Powder Stencil
Valentine's Cocktail Feature
Love Shack Margarita

Don Fulano Blanco Tequila, Prickly Pear Reál, Lime Juice, Ruby Red Grapefruit Juice

$17
Appetizers
Jumbo Shrimp Cocktail

Cocktail Sauce

$24

Lump Crabmeat Cocktail

Cocktail Sauce, Creamy Mustard Mayonnaise

$32

Chesapeake Bay Style Crab Cake

Creamy Mustard Mayonnaise

$26

Shrimp & Grits

Jumbo Shrimp, White Cheddar Grits, Creole Butter Sauce

$19

Oceanaire Signature Sourdough Bread & Relish Tray

$3.50
Soups & Salads
New England Clam Chowder

$13

Chopped House Green Salad

Tomato, Cucumbers, Red Onion, Oceanaire Vinaigrette

$12

Caesar Salad

Croutons, Shaved Parmesan

$12

Seafood Chopped Salad

Crabmeat, Shrimp, Feta Cheese, Greek Vinaigrette

$28

Grilled Blackened Caesar Salad

Blackened Shrimp, Salmon or Chicken Breast

$25
Chef Specialties
Chilean Seabass 'Louis'

Lump Crabmeat, Capers, Lemon Beurre Blanc

$60

Chesapeake Bay Style Crab Cakes

Mustard Mayonnaise

$50

Chicken Fried Lobster

Truffled Honey, Cheesy Grits, House Hot Sauce

$45

Oceanaire Steak & Cake

6 oz. Filet Mignon and Signature Crab Cake

$66

Filet Mignon & Shrimp

Parmesan Garlic Butter

$45

Jumbo Shrimp Scampi

Tomatoes, Garlic Butter, Angel Hair Pasta

$34

Shellfish Mixed Grill

5 oz. Lobster Tail, Jumbo Scallops, Jumbo Shrimp, Asparagus

$58

Shrimp Fried Rice "Shanghai Style"

Crispy fried lobster tail, fried egg

$45
Simply prepared
Extra Virgin Olive Oil & Lemon
Responsibly Sourced Salmon

$30

MSC Certified Chilean Seabass

$45

5 oz. Cold Water Lobster Tail

$24

Premium Red King Crab

per MP

1.5 lb Live Maine Lobster

$54
USDA Prime Steakhouse Cuts
6 oz. Center-Cut Filet Mignon

$40

10 oz. Center-Cut Filet Mignon

$55

22 oz. Prime Bone-In Ribeye

$68

16 oz. Prime New York Strip

$62
Sides
Truffle Whipped Potatoes

$13

Grilled Asparagus

$13

Chefs Seasonal Vegetable

$13

Parmesan Truffle Fries

$13

Shrimp Fried Rice

$18

Mac & Cheese

$13

Hashed Browns

$13

Hashed Browns a'la Oceanaire

$16

Lobster Mac & Cheese

$35

Lobster & Crab Mac & Cheese

$35
Sandwiches
Served with Sea Salt Thick Cut Fries OR House Chopped salad
The Oceanaire Burger

Cheddar Cheese, Bacon, Caramelized Onions & Louis Dressing

$17

Crab Cake Club Sandwich

Bacon, Lettuce, Tomato, Creamy Mustard Mayo

$27
Kids
Served with Fresh Fruit & French Fries
Chicken Fingers

$12

Grilled Cheese

$12

Kid's Cheeseburger

$12
Desserts
Cheesecake

$12

Key Lime Pie

$13

Flourless Chocolate Torte

$16
Awards
"Diners' Choice" - Open Table, (2022)
"Award of Excellence" - Wine Spectator, (2017, 2018, 2019, 2020, 2021, 2022)
"Certificate of Excellence Award for Superior Service" - Tripadvisor, (2016)
"Favorite New Restaurant" - The Restaurant Association of Maryland, (2008)