Main content starts here, tab to start navigating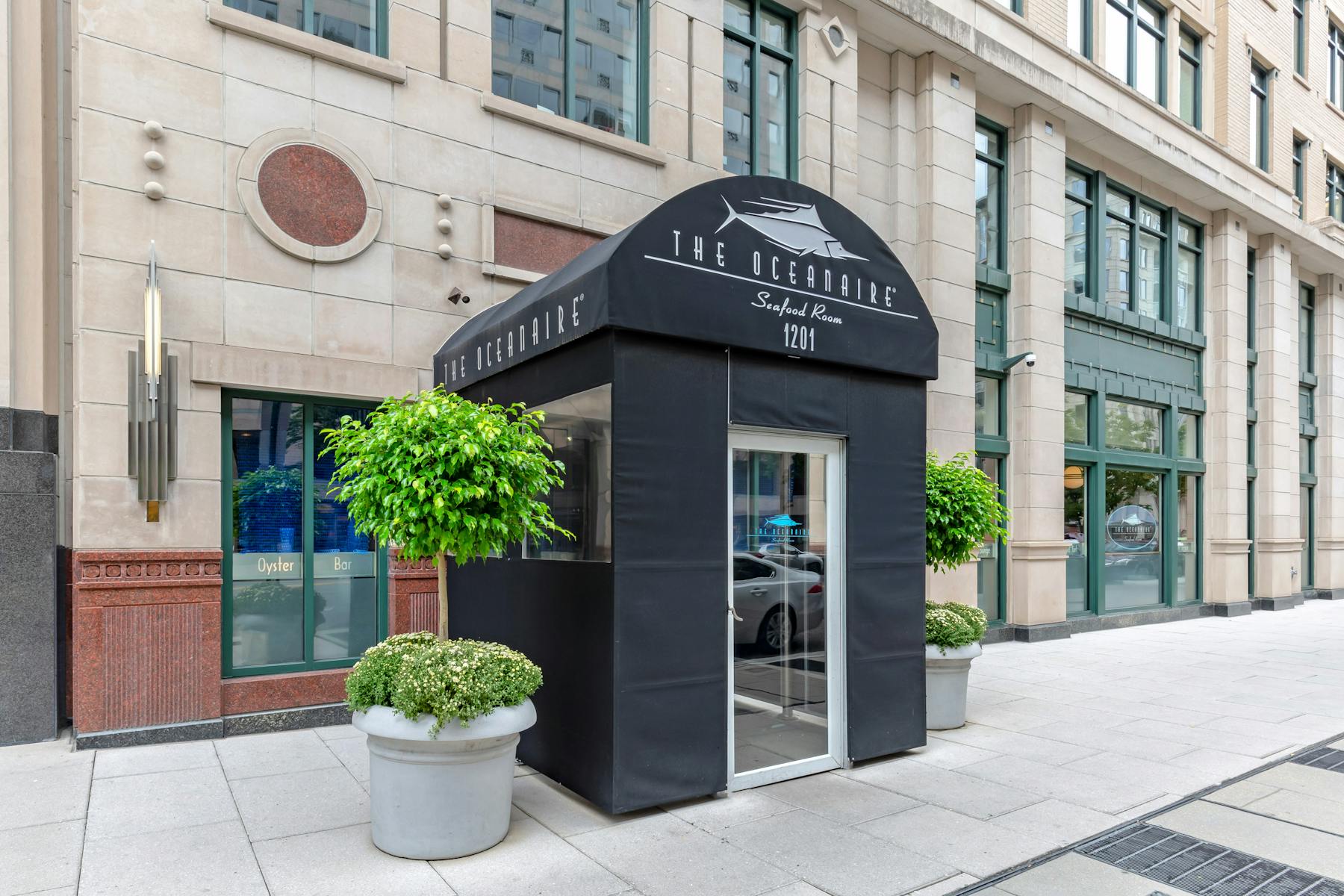 Slide 1 of 4
Slide 2 of 4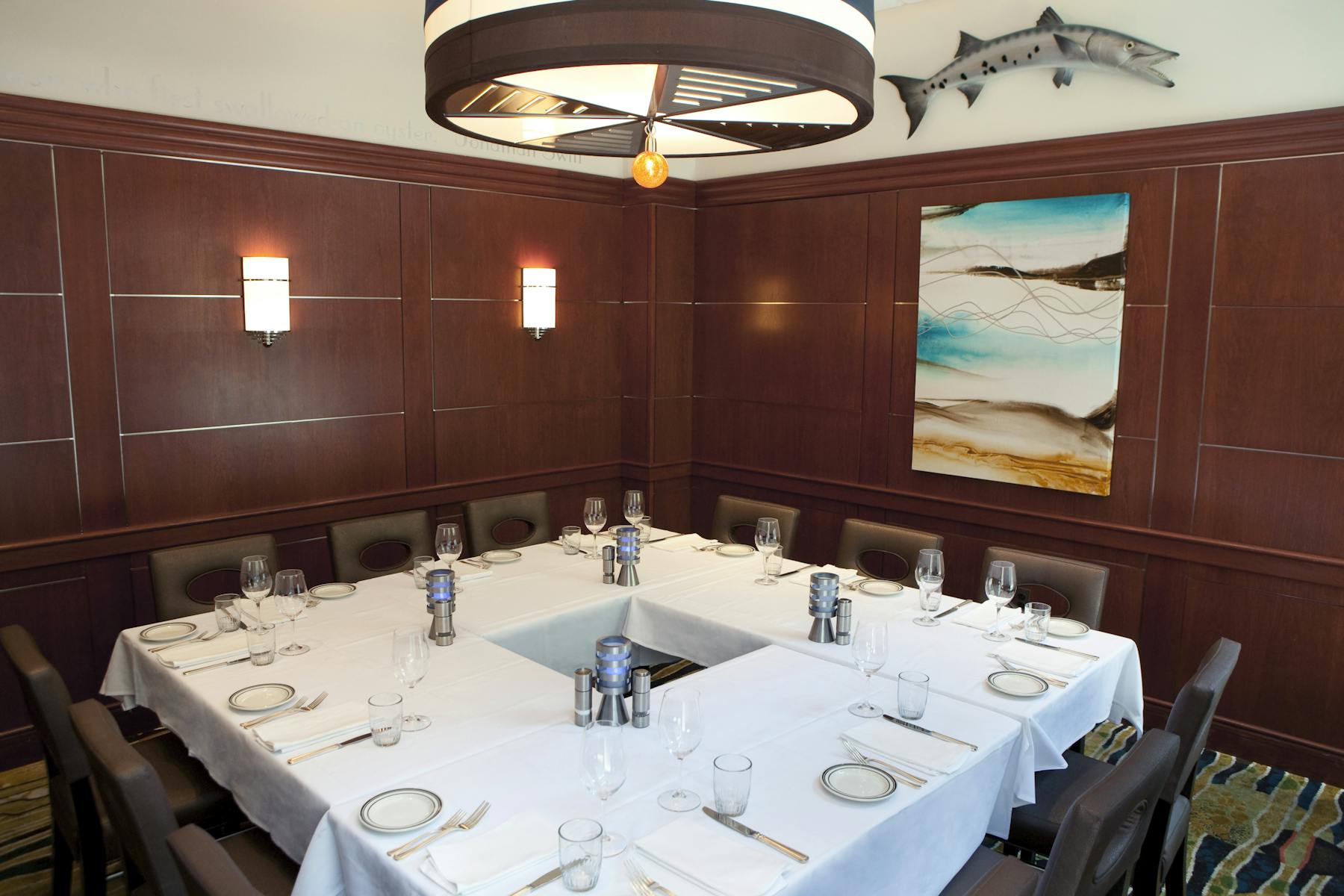 Slide 3 of 4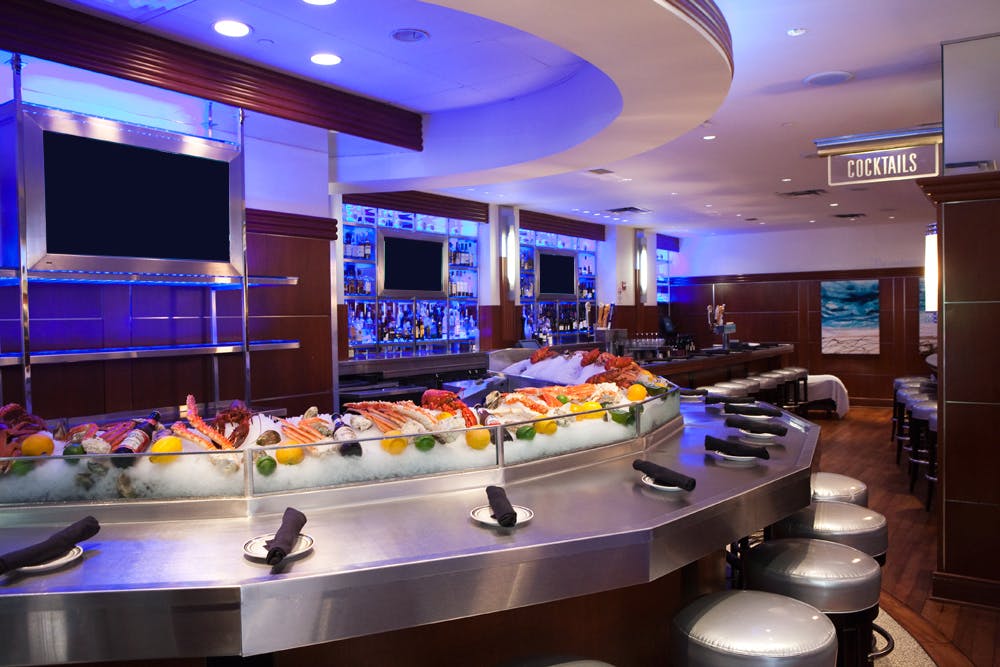 Slide 4 of 4
Hours & Location
1201 F Street NW,
Washington, DC 20004
Sunday: 3:00 PM - 8:00 PM
Monday: 12:00 PM - 8:00 PM
Tuesday: 12:00 PM - 8:00 PM
Wednesday: 12:00 PM - 8:00 PM
Thursday: 12:00 PM - 8:00 PM
Friday: 12:00 PM - 8:00 PM
Saturday: 3:00 PM - 8:00 PM
Open for To-Go and Delivery only at this time.
---


Open For To Go & Delivery
Additional Info
Valet parking available during restaurant dinner hours.
Valet cost: $12.00
Appetizers
Jumbo Shrimp Cocktail

Cocktail sauce

$20

Lump Crabmeat Cocktail

Cocktail sauce, creamy mustard mayonnaise

$20

Chesapeake Bay Style Crab Cake

Creamy mustard mayonnaise

$17

Shrimp & Grits

Jumbo shrimp, white cheddar grits, creole butter sauce

$15
Soups & Salads
Soup of the Day

$9

Chopped House Green Salad

Tomato, cucumbers, red onion, greek vinaigrette

$10

Caesar Salad

House-made croutons, shaved parmesan

$10

Seafood Chopped Salad

Crabmeat, shrimp, feta cheese, greek vinaigrette

$19

Grilled Blackened Caesar Salad

Blackened shrimp, salmon or chicken

$18
Sandwiches
Served with french fries or house chopped salad
The Oceanaire Burger

Lettuce, tomato, cheddar cheese & Louis dressing

$14

Crab Cake Club Sandwich

Lettuce, tomato, bacon, creamy mustard mayo

$18
Chef Specialties
Chef's Daily Special

$34

Chesapeake Bay Style Crab Cakes

Creamy mustard mayonnaise

$34

Oceanaire Alaska Red King Crab Boil

8 oz. king crab, 4 jumbo shrimp, andouille sausage, corn on the cob, red bliss potatoes, old bay, butter

$39

Shellfish Mixed Grill

5 oz. lobster tail, jumbo scallops, jumbo shrimp, asparagus

$45

Oceanaire Steak & Cake

6 Oz. filet mignon & signature crab cake

$42
Simply Prepared
Extra virgin olive oil & lemon
Responsibly Farm-Raised Salmon

$28

Chef's Simple Fish

$34

New Bedford Sea Scallops

$30

5 oz. Cold Water Lobster Tail

$19
USDA Prime Steakhouse Cuts
6 oz. Center- Cut Filet Mignon

$24

10 oz. Center-Cut Filet Mignon

$32

22 oz. Prime Bone-In Ribeye

$41

16 oz. Prime New York Strip

$35
Sides
Mashed Potatoes

$10

Grilled Asparagus

$10

Parmesan Truffle Fries

$10

Chefs Seasonal Vegetable

$10

Mac & Cheese

$10

Lobster Mac & Cheese

$25
Desserts
Cheesecake

Seasonal berries, strawberry sauce

$10

Flourless Chocolate Torte

$10

Key Lime Pie

$10
Kids
Served with fresh fruit & french fries
Chicken Fingers

$9

Grilled Cheese

$9

Cheeseburger Sliders

$9
Freshly Prepared Chef Specialties for you to pick-up, grill, cook and enjoy at home!
Each kit includes cryo-vac sealed steaks with Signature Oceanaire Seasoning and house-made steak sauce, ready to cook side dishes, fresh Oceanaire Chopped Salad or Caesar Salad and a homemade dessert.
Add an additional Cold-Water Lobster Tail, Oceanaire Crab Cake, (4) Sea Scallops or (4) Jumbo Shrimp to any package for $15 per selection.
*10% off cannot be used with this offer.
Dinner for Two
$59
(2) 6 oz Center-Cut Filet Mignon

(2) 5 oz Cold Water Lobster Tails

Choice of 2

Seasonal vegetable, grilled jumbo asparagus, mashed potato, macaroni & cheese

Choice Of

New York-style cheesecake with fresh berries or key lime pie
Dinner for Four
$99
(2) 6 oz Center-Cut Filet Mignon

(2) 16 oz Prime New York Strip Steaks

1 pound of Alaska Red King Crab Legs

Choice of 3

Seasonal vegetable, grilled jumbo asparagus, mashed potato, macaroni & cheese

New York Style Cheesecake with Fresh Berries and Key Lime Pie
Add-Ons for The Kids
Grilled Cheese

W/ french fries

$9

(2) Burger Sliders

W/ french fries

$9

Homemade Baked Macaroni & Cheese

$9

Chicken Fingers

W/ french fries
A la Carte
*All steaks & shellfish listed below available for purchase, to be cooked in your home kitchen
6 oz Center Cut Filet Mignon

$18

10 oz Center Cut Filet Mignon

$26

16 oz Prime New York Strip Steak

$28

22 oz Bone-In Ribeye

$35
The Oceanaire Seafood Market
Shrimp 8/12 ct.

$18 per pound

Shrimp U-15 ct.

$12 per pound

Shrimp 26/30 ct.

$9 per pound

Baby Shrimp 70/90 ct.

$8 per pound

Blue Claw Crab Meat

$13 per lb

Super Lump Crab Meat

$20 per lb

Jumbo Lump Crab Meat

$26 per lb

Colossal Lump Crab Meat

$29 per lb

(2) OA Crab Cakes

$30

Alaskan Red King Crab

$35 per lb

Calamari

2.5lb pkg. $20

5 oz. Cold Water Lobster Tail

Each $15

Frozen Lobster Meat

$28 per lb

2 oz. Foie Gras portion

Each $7

Sourdough Bread Boule

Each $2.50

French Baguette

Each $2.50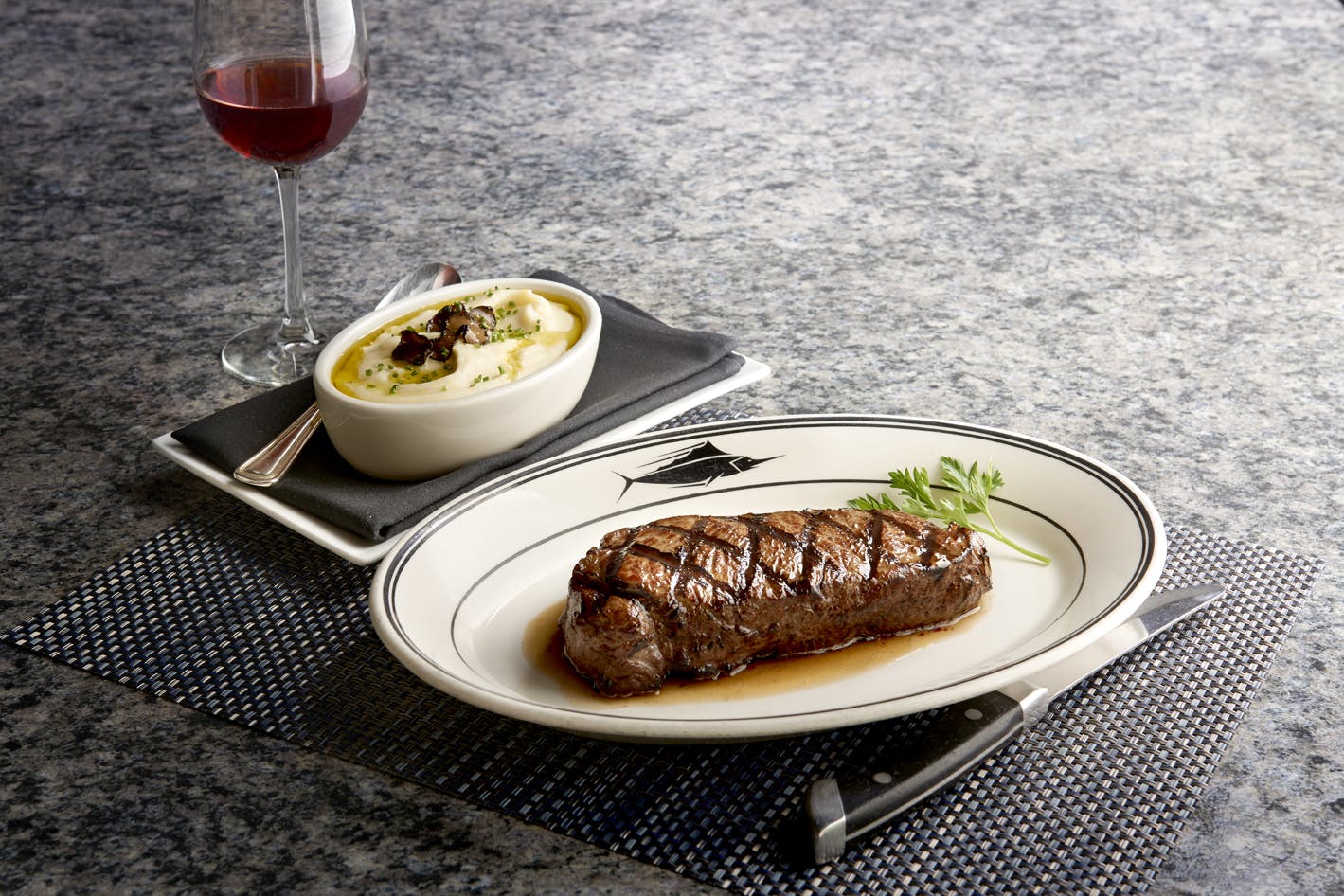 Albariño
Kentia, Albariño, Rías Baixas DO, 2017

$51
Chardonnay
Orin Swift, Mannequin, Chardonnay, California, 2017

$75

Frank Family Vineyards, Chardonnay, Carneros, 2017

$95

Shafer, Red Shoulder Ranch, Chardonnay, Carneros, 2016

$105

La Crema, Chardonnay, Monterey, 2017

$53

Talbott, Kali Hart, Chardonnay, Monterey County, 2016

$49

Beringer, Chardonnay, Napa Valley, 2016

$49

Cakebread Cellars, Chardonnay, Napa Valley, 2017

$120

Chateau Montelena, Chardonnay, Napa Valley, 2016

$115

Darioush, Chardonnay, Napa Valley, 2017

$105

Far Niente, Chardonnay, Napa Valley, 2017

$99

Grgich Hills, Chardonnay, Napa Valley, 2015

$105

Krupp Brothers, Stagecoach Vineyard, Chardonnay, Napa Valley, 2015

$145

Newton, Unfiltered, Chardonnay, Napa Valley, 2015

$129

PlumpJack, Reserve, Chardonnay, Napa Valley, 2018

$125

Stag's Leap Wine Cellars, Hands of Time, Chardonnay, Napa Valley, 2017

$63

Stag's Leap Wine Cellars, Karia, Chardonnay, Napa Valley, 2017

$79

Stony Hill, Chardonnay, Napa Valley, 2013

$125

EnRoute, Brumaire, Chardonnay, Russian River Valley, 2013

$115

Hartford Court, Three Virtues, Chardonnay, Russian River Valley, 2017

$79

Jordan, Chardonnay, Russian River Valley, 2016

$99

Paul Hobbs, Chardonnay, Russian River Valley, 2016

$99

Rochioli, Chardonnay, Russian River Valley, 2013

$129

Ridge, Monte Bello, Chardonnay, Santa Cruz Mountains, 2014

$179

Mer Soleil, Reserve, Chardonnay, Santa Lucia Highlands, 2015

$75

Butter Block, Chardonnay, Santa Maria Valley, 2015

$55

Flowers, Chardonnay, Sonoma Coast, 2016

$105

Kistler, Les Noisetiers, Chardonnay, Sonoma Coast, 2017

$125

Saxon Brown, Durrell Vineyard, Chardonnay, Sonoma Coast, 2008

$117

Sonoma-Cutrer, Russian River Ranches, Chardonnay, Sonoma Coast, 2016

$67

Ferrari-Carano, Chardonnay, Sonoma County, 2017

$75

Hoopes, Hoopla, Chardonnay, Yountville, 2016

$49

Domaine Drouhin, Arthur, Chardonnay, Dundee Hills, 2016

$90

Mouton Noir, Oregogne, Chardonnay, Willamette Valley, 2014

$79

Gran Moraine, Chardonnay, Yamhill-Carlton District, 2014

$99

Chateau Ste. Michelle, Cold Creek Vineyard, Chardonnay, Columbia Valley, 2015

$75

Sixto, Uncovered, Chardonnay, Washington, 2013

$90

Sixto, Frenchman Hills Vineyard, Chardonnay, Washington, 2014

$95

Albert Bichot, Domaine Long-Depaquit, Les Vaillons, Chardonnay, Chablis 1er Cru, 2017

$95

Jean-Marc Brocard, Côte de Léchet, Chardonnay, Chablis 1er Cru, 2017

$90

Domaine Vincent & Sophie Morey, Les Embrazées, Chardonnay, Chassagne-Montrachet 1er Cru, 2017

$145

Domaine Leflaive, Chardonnay, Mâcon-Verzé, 2017

$115

Domaine Antonin Guyon, Les Charmes Dessus, Chardonnay, Meursault-Charmes 1er Cru, 2017

$185

Maison Louis Latour, La Grande Roche, Chardonnay, Montagny 1er Cru, 2017

$72

Louis Jadot, Pouilly-Fuissé, 2017

$69

Thierry et Pascale Matrot, Les Chalumeaux, Chardonnay, Puligny-Montrachet 1er Cru, 2016

$199

Gaja, Gaia & Rey, Chardonnay, Langhe DOC, 2014

$450

Gaja, Rossj-Bass, Chardonnay, Langhe DOC, 2016

$199

Castello della Sala, Bramito del Cervo, Chardonnay, Umbria IGT, 2018

$55

Kumeu River, Estate, Chardonnay, Kumeu, 2015

$79

Torres, Milmanda, Chardonnay, Conca de Barberà DO, 2013

$105
Chenin Blanc
Chappellet, Chenin Blanc, Napa Valley, 2013

$89
Fiano
Planeta, Cometa, Fiano, Menfi DOC, 2016

$95
Garganega
Pieropan, La Rocca, Garganega, Soave Classico DOC, 2017

$79
Grüner Veltliner
Chehalem, Ridgecrest Vineyards, Grüner Veltliner, Ribbon Ridge, 2017

$59

Huber, Obere Steigen, Grüner Veltliner, Traisental DAC, 2018

$59
Marsanne
M. Chapoutier, Chante-Alouette, Marsanne, Hermitage, 2014

$225

Paul Jaboulet Aîné, Les Sauvagères, Marsanne, Saint-Péray, 2014

$70
Pinot Blanc
Trimbach, Pinot Blanc, Alsace, 2017

$49
Pinot Grigio / Gris
J Vineyards, Pinot Gris, California, 2017

$55

Marion-Field Cellars, The Marion, Pinot Gris, Oregon, 2016

$39

Cantina Terlano, Pinot Grigio, Alto Adige DOC, 2018

$63

Santa Margherita, Pinot Grigio, Alto Adige DOC, 2018

$71

Pighin, Pinot Grigio, Friuli Grave DOC, 2017

$52

Jermann, Pinot Grigio, Venezia Giulia IGT, 2017

$59
Riesling
Red Newt Cellars, The Knoll, Riesling, Finger Lakes, 2015

$85

Chateau Ste. Michelle & Dr. Loosen, Eroica, Riesling, Columbia Valley, 2017

$56

Penfolds, Bin 51, Riesling, Eden Valley, 2017

$95

Max Ferd. Richter, Graacher Himmelreich, Riesling, Mosel, 2016

$65

Bex, Riesling, Nahe, 2017

$47

Robert Weil, Tradition, Riesling, Rheingau, 2017

$63
Roussanne
Pomar Junction, Roussanne, Paso Robles, 2014

$65
Sauvignon Blanc
Rudd, Sauvignon Blanc, Mount Veeder, 2014

$150

Cakebread Cellars, Sauvignon Blanc, Napa Valley, 2018

$83

Duckhorn, Sauvignon Blanc, Napa Valley, 2018

$79

Emmolo, Sauvignon Blanc, Napa Valley, 2017

$59

Robert Mondavi, Fumé Blanc, Sauvignon Blanc, Napa Valley, 2017

$57

Stag's Leap Wine Cellars, Aveta, Sauvignon Blanc, Napa Valley, 2017

$67

Illumination, Sauvignon Blanc, North Coast, 2017

$99

Orin Swift, Blank Stare, Sauvignon Blanc, Russian River Valley, 2017

$72

Silverado, Miller Ranch, Sauvignon Blanc, Yountville, 2017

$75

Chateau Ste. Michelle, Horse Heaven Vineyard, Sauvignon Blanc, Horse Heaven Hills, 2017

$48

Jean-Claude Dagueneau, Sauvignon Blanc, Pouilly-Fumé, 2016

$71

Patient Cottat, Anciennes Vignes, Sauvignon Blanc, Sancerre, 2017

$79

Giesen, Sauvignon Blanc, Marlborough, 2018

$47

Kim Crawford, Sauvignon Blanc, Marlborough, 2018

$54

Loveblock, Sauvignon Blanc, Marlborough, 2018

$63

Matua, Sauvignon Blanc, Marlborough, 2018

$45

Villa Maria, Private Bin, Sauvignon Blanc, Marlborough, 2018

$39
Viognier
Darioush, Viognier, Napa Valley, 2017

$100

DuMOL, lia, Viognier, Russian River Valley, 2015

$125

E. Guigal, Viognier, Condrieu, 2016

$135

Nicolas Perrin, Maison Les Alexandrins, Viognier, Vin de France, 2017

$55
White Blend
The Prisoner Wine Company, Blindfold, White Blend, California, 2017

$75

Chimney Rock, Elevage Blanc, White Blend, Napa Valley, 2014

$99

Palazzo, Cuvée Blanc, White Blend, Napa Valley, 2011

$85

Pomar Junction, Côtes de Pomar BLANC, White Blend, Paso Robles, 2014

$75

DeLille Cellars, Chaleur Blanc, White Blend, Columbia Valley, 2014

$79

Château Carbonnieux, Pessac-Léognan, 2016

$125

Cantina Terlano, Terlaner, Alto Adige DOC, 2017

$65

Donnafugata, Anthilia, White Blend, Sicily IGT, 2012

$53
Bonny Doon Vineyard, Vin Gris de Cigare, Rosé, Central Coast, 2018

$45

Elouan, Rosé, Oregon, 2016

$55

Bieler Père et Fils, Sabine, Rosé, Coteaux d'Aix en Provence, 2018

$55

Caves d'Esclans, Whispering Angel, Rosé, Côtes de Provence, 2018
Sake
Ginga Shizuku, Divine Droplets, Sake, Hokkaido

$77

Konteki, Tears of Dawn, Sake, Kyoto

$49

Tozai, Snow Maiden, Sake, Kyoto

$29

Rihaku, Wandering Poet, Sake, Shimane

$39

Rihaku, Dreamy Clouds, Sake, Shimane

$30
Cabernet Franc
La Jota Vineyard Co., Cabernet Franc, Howell Mountain, 2011

$192

Michael David, Inkblot, Cabernet Franc, Lodi, 2015

$75

Darioush, Cabernet Franc, Napa Valley, 2014

$125

Robert Mondavi, Cabernet Franc, Oakville, 2014

$125
Cabernet Sauvignon
Jordan, Cabernet Sauvignon, Alexander Valley, 2015

$125

Kenwood, Six Ridges, Cabernet Sauvignon, Alexander Valley, 2015

$69

Silver Oak, Cabernet Sauvignon, Alexander Valley, 2014

$165

Simi, Landslide Vineyard, Cabernet Sauvignon, Alexander Valley, 2015

$95

Stonestreet, Rockfall, Cabernet Sauvignon, Alexander Valley, 2013

$188

Chateau Montelena, Cabernet Sauvignon, Calistoga, 2016

$99

Silverado, GEO, Cabernet Sauvignon, Coombsville, 2012

$159

Hundred Acre, Ark Vineyard, Cabernet Sauvignon, Howell Mountain, 2015

$850

La Jota Vineyard Co., Cabernet Sauvignon, Howell Mountain, 2012

$140

La Jota Vineyard Co., Anniversary Release, 22nd Anniversary, Cabernet Sauvignon, Howell Mountain, 2003

$280

Lokoya, Cabernet Sauvignon, Howell Mountain, 2012

$625

Beringer, Cabernet Sauvignon, Knights Valley, 2017

$85

Sbragia, Monte Rosso Vineyard, Cabernet Sauvignon, Moon Mountain District, 2014

$115

Mt. Brave, Cabernet Sauvignon, Mount Veeder, 2015

$185

Adaptation, by Odette, Cabernet Sauvignon, Napa Valley, 2016

$119

Cakebread Cellars, Cabernet Sauvignon, Napa Valley, 2016

$165

Cardinale, Cabernet Sauvignon, Napa Valley, 2012

$395

Caymus, Cabernet Sauvignon, Napa Valley, 2018

$149

Caymus, Special Selection, Cabernet Sauvignon, Napa Valley, 2015

$315

Celani Family Vineyards, Unfiltered, Cabernet Sauvignon, Napa Valley, 2012

$165

Conn Creek, Anthology, Cabernet Sauvignon, Napa Valley, 2013

$99

Darioush, Cabernet Sauvignon, Napa Valley, 2016

$231

Duckhorn, Cabernet Sauvignon, Napa Valley, 2016

$99

Educated Guess, Cabernet Sauvignon, Napa Valley, 2017

$69

Faust, Cabernet Sauvignon, Napa Valley, 2016

$135

Freemark Abbey, Cabernet Sauvignon, Napa Valley, 2015

$110

Guarachi Family Wines, Cabernet Sauvignon, Napa Valley, 2014

$185

Hundred Acre, Wraith, Cabernet Sauvignon, Napa Valley, 2013

$850

Hypothesis, Cabernet Sauvignon, Napa Valley, 2014

$125

Long Meadow Ranch, Cabernet Sauvignon, Napa Valley, 2012

$120

Louis M. Martini, Cabernet Sauvignon, Napa Valley, 2016

$89

Mount Veeder Winery, Cabernet Sauvignon, Napa Valley, 2016

$115

Pahlmeyer, Jayson, Cabernet Sauvignon, Napa Valley, 2016

$180

Robert Mondavi, Cabernet Sauvignon, Napa Valley, 2016

$79

Robert Mondavi, Reserve, Cabernet Sauvignon, Napa Valley, 2015

$295

Route Stock, Cabernet Sauvignon, Napa Valley, 2016

$67

Schrader, Beckstoffer George III Vineyard, Cabernet Sauvignon, Napa Valley, 2010

$795

Stag's Leap Wine Cellars, Artemis, Cabernet Sauvignon, Napa Valley, 2016

$135

Stags' Leap Winery, Cabernet Sauvignon, Napa Valley, 2015

$129

Raymond, Primal Cut, Cabernet Sauvignon, North Coast, 2015

$71

Far Niente, Cabernet Sauvignon, Oakville, 2014

$235

Groth, Cabernet Sauvignon, Oakville, 2015

$120

Nickel & Nickel, John C. Sullenger Vineyard, Cabernet Sauvignon, Oakville, 2017

$195

Ramey, Pedregal Vineyard, Cabernet Sauvignon, Oakville, 2009

$366

Weese Family Winery, Cabernet Sauvignon, Rockpile, 2012

$105

Hall, Coeur, Cabernet Sauvignon, St. Helena, 2013

$119

Chimney Rock, Cabernet Sauvignon, Stags Leap District, 2014

$205

Odette, Estate, Cabernet Sauvignon, Stags Leap District, 2016

$265

Shafer, Hillside Select, Cabernet Sauvignon, Stags Leap District, 2009

$516

DeLille Cellars, Four Flags, Cabernet Sauvignon, Columbia Valley, 2011

$144

Drumheller, Cabernet Sauvignon, Columbia Valley, 2017

$51

Quilceda Creek, Cabernet Sauvignon, Columbia Valley, 2016

$325

Col Solare, Cabernet Sauvignon, Red Mountain, 2014

$145

Concha y Toro, Don Melchor, Puente Alto Vineyard, Cabernet Sauvignon, Puente Alto DO, 2013

$225
Grenache
Tuck Beckstoffer, Melée, Grenache, California, 2014

$89

d'Arenberg, The Derelict Vineyard, Grenache, McLaren Vale, 2014

$75
Malbec
Luigi Bosca, Single Vineyard, Malbec, Luján de Cuyo DOC, 2016

$69

MAAL, biutiful, Malbec, Mendoza, 2017

$63

Trivento, Reserve, Malbec, Mendoza, 2017

$39

Viña Cobos, Felino, Malbec, Mendoza, 2018

$55

Luca, Malbec, Uco Valley, 2015

$79

Salentein, Finca San Pablo, Malbec, Uco Valley, 2019

$120

Crocus, Prestige, Malbec, Cahors, 2011

$90
Merlot
Matanzas Creek, Merlot, Bennett Valley, 2013

$64

La Jota Vineyard Co., Merlot, Howell Mountain, 2018

$165

Cakebread Cellars, Merlot, Napa Valley, 2014

$150

Duckhorn, Three Palms Vineyard, Merlot, Napa Valley, 2015

$167

Duckhorn, Merlot, Napa Valley, 2015

$125

Hourglass, Blueline Estate, Merlot, Napa Valley, 2014

$155

Pahlmeyer, Merlot, Napa Valley, 2014

$175

Twomey, Merlot, Napa Valley, 2014

$125

Northstar, Merlot, Columbia Valley, 2011

$95

Seven Hills, Merlot, Walla Walla Valley, 2016

$63
Nebbiolo
Gaja, Barbaresco DOCG, 2014

$475

Conterno Fantino, Sorì Ginestra, Nebbiolo, Barolo DOCG, 2013

$225
Petite Sirah
Parducci, True Grit Reserve, Petite Sirah, Mendocino County, 2015

$47

Stags' Leap Winery, Petite Sirah, Napa Valley, 2016

$95
Pinot Noir
Goldeneye, Pinot Noir, Anderson Valley, 2016

$119

Goldeneye, Gowan Creek Vineyard, Pinot Noir, Anderson Valley, 2014

$143

Maggy Hawk, Jolie, Pinot Noir, Anderson Valley, 2010

$118

Clos du Val, Pinot Noir, Carneros, 2016

$85

Patz & Hall, Hyde Vineyard, Pinot Noir, Carneros, 2016

$159

David Bruce, Pinot Noir, Russian River Valley, 2015

$105

EnRoute, Les Pommiers, Pinot Noir, Russian River Valley, 2016

$135

Gary Farrell, Russian River Selection, Pinot Noir, Russian River Valley, 2016

$95

Rochioli, Pinot Noir, Russian River Valley, 2016

$175

Rodney Strong, Pinot Noir, Russian River Valley, 2015

$49

Twomey, Pinot Noir, Russian River Valley, 2016

$110

Byron, Nielson, Pinot Noir, Santa Barbara County, 2017

$54

Belle Glos, Las Alturas Vineyard, Pinot Noir, Santa Lucia Highlands, 2016

$79

Flowers, Pinot Noir, Sonoma Coast, 2016

$120

Hirsch, San Andreas Fault, Pinot Noir, Sonoma Coast, 2016

$140

Kosta Browne, Pinot Noir, Sonoma Coast, 2016

$195

Patz & Hall, Pinot Noir, Sonoma Coast, 2016

$120

Reuling Vineyard, Pinot Noir, Sonoma Coast, 2011

$147

Banshee, Pinot Noir, Sonoma County, 2016

$59

Brewer-Clifton, Pinot Noir, Sta. Rita Hills, 2015

$95

Domaine de la Côte, Bloom's Field, Pinot Noir, Sta. Rita Hills, 2014

$145

Drouhin Oregon, RoseRock, Pinot Noir, Eola-Amity Hills, 2016

$85

Adelsheim, Pinot Noir, Willamette Valley, 2017

$74

Alexana, Terroir Series, Pinot Noir, Willamette Valley, 2017

$79

Bergström, Cumberland Reserve, Pinot Noir, Willamette Valley, 2016

$95

Domaine Serene, Evenstad Reserve, Pinot Noir, Willamette Valley, 2016

$155

Ponzi, Reserve, Pinot Noir, Willamette Valley, 2015

$135

The Harrison, Pinot Noir, Willamette Valley, 2015

$71

Elk Cove, Mount Richmond, Pinot Noir, Yamhill-Carlton District, 2017

$110

Domaine François Lumpp, La Paulée, Pinot Noir, Bourgogne, 2016

$105

Maison Louis Latour, Pinot Noir, Marsannay, 2017

$69

Aurélien Verdet, En La Rue de Vergy, Pinot Noir, Morey-Saint-Denis, 2011

$145

Domaine Henri Gouges, Clos des Porrets St-George, Pinot Noir, Nuits-Saint-Georges 1er Cru, 2015

$175

Domaine de Courcel, Les Vaumuriens, Pinot Noir, Pommard, 2015

$210

Aurélien Verdet, Vieilles Vignes, Pinot Noir, Vosne-Romanée, 2011

$225

Cloudy Bay, Pinot Noir, Marlborough, 2014

$95
Red Blend
Stonestreet, Legacy, Red Blend, Alexander Valley, 2012

$150

The Calling, Visionary, Red Blend, Alexander Valley, 2016

$63

Leviathan, Red Blend, California, 2012

$105

Orin Swift, Abstract, Red Blend, California, 2016

$103

Orin Swift, 8 Years in the Desert, Red Blend, California, 2017

$98

Blackbird Vineyards, Block 9, Red Blend, Napa Valley, 2012

$99

Blackbird Vineyards, Illustration, Red Blend, Napa Valley, 2011

$270

Dancing Hares, Red Blend, Napa Valley, 2014

$225

Dominus Estate, Red Blend, Napa Valley, 2012

$375

Duckhorn, The Discussion, Red Blend, Napa Valley, 2012

$235

Joseph Phelps, Insignia, Blend, Napa Valley, 2010

$485

Kenzo Estate, rindo, Red Blend, Napa Valley, 2012

$295

Merryvale, Profile, Red Blend, Napa Valley, 2012

$350

Opus One, Red Blend, Napa Valley, 2014

$595

Orin Swift, Papillon, Red Blend, Napa Valley, 2016

$179

Palazzo, Right Bank, Red Blend, Napa Valley, 2010

$140

Paraduxx, Red Blend, Napa Valley, 2015

$115

Petite Côte, Right Bank Bordeaux-Style Blend, Napa Valley, 2016

$71

Robert Mondavi, Maestro, Red Blend, Napa Valley, 2014

$139

Shafer, Relentless, Red Blend, Napa Valley, 2014

$185

The Prisoner Wine Company, The Prisoner, Red Blend, Napa Valley, 2017

$110

Justin, Isosceles, Red Blend, Paso Robles, 2015

$139

Treana, Red Blend, Paso Robles, 2017

$79

Quintessa, Red Blend, Rutherford, 2014

$295

Jonata, Todos, Red Blend, Santa Ynez Valley, 2012

$119

Cenyth, Red Blend, Sonoma County, 2014

$120

Vérité, La Joie, Red Blend, Sonoma County, 2012

$795

Vérité, La Muse, Red Blend, Sonoma County, 2009

$795

Vérité, Le Desir, Red Blend, Sonoma County, 2012

$795

Cain Vineyard & Winery, Cain Five, Red Blend, Spring Mountain District, 2013

$210

Spring Valley Vineyard, Frederick, Red Blend, Walla Walla Valley, 2015

$130

Penfolds, Bin 389, Cabernet Shiraz, Cabernet Shiraz, South Australia, 2016

$149

Lapostolle, Clos Apalta, Apalta Vineyard, Red Blend, Colchagua Valley DO, 2012

$255

M. Chapoutier, La Bernardine, Châteauneuf-du-Pape, 2014

$155

Château Poujeaux, Bordeaux, Moulis-en-Médoc, 2010

$170

Château Latour à Pomerol, Bordeaux, Pomerol, 2014

$225

Château Cos-d'Estournel, Les Pagodes de Cos, Red Blend, Saint-Estèphe, 2011

$175

Allegrini, Amarone della Valpolicella Classico DOCG, 2014

$138

Dal Forno Romano, Red Blend, Amarone della Valpolicella DOCG, 2009

$650

Antinori, Guado al Tasso, Bolgheri Superiore DOC, 2011

$225

Antinori, Tignanello, Super Tuscan, Tuscany IGT, 2015

$235

Arcanum, Tuscany IGT, 2009

$170

Arcanum, Valadorna, Red Blend, Tuscany IGT, 2008

$159

Gaja Ca' Marcanda, Promis, Red Blend, Tuscany IGT, 2015

$115

Il Poggione, Rosso, Super Tuscan, Tuscany IGT, 2017

$59

Supremus, Super Tuscan, Tuscany IGT, 2013

$71

Clos Figueras, Font de la Figuera, Red Blend, Priorat DOQ, 2010

$175

Vall Llach, Embruix, Red Blend, Priorat DOQ, 2014

$59
Sangiovese
Col d'Orcia, Sangiovese, Brunello di Montalcino DOCG, 2013

$135

Il Poggione, Sangiovese, Brunello di Montalcino DOCG, 2013

$165

Castello di Bossi, Berardo, Chianti Classico Riserva DOCG, 2013

$89
Syrah / Shiraz
Pride, Syrah, Sonoma County, 2012

$128

K Vintners, The Deal, Sundance Vineyard, Syrah, Wahluke Slope, 2013

$95

K Vintners, Morrison Lane, Syrah, Walla Walla Valley, 2013

$95

Spring Valley Vineyard, Nina Lee, Syrah, Walla Walla Valley, 2012

$105

E&E, Black Pepper, Shiraz, Barossa Valley, 2014

$145

Two Hands, Gnarly Dudes, Shiraz, Barossa Valley, 2016

$99

Streicker, Bridgeland Block, Syrah, Margaret River, 2010

$88

Hickinbotham, Brooks Road, Shiraz, McLaren Vale, 2012

$150

Mitolo, Jester, Shiraz, McLaren Vale, 2016

$63

Yangarra, Ironheart, Shiraz, McLaren Vale, 2008

$120

Penfolds, Bin 28, Kalimna, Shiraz, South Australia, 2014

$79

François Villard, Le Gallet Blanc, Syrah, Côte-Rôtie, 2016

$170

Domaine du Tunnel, Syrah, Saint-Joseph, 2016

$110
Tempranillo
Bodega Numanthia, Numanthia, Tempranillo, Toro DO, 2012

$125
Zinfandel
Turley, Juvenile, Zinfandel, California, 2017

$71

Dashe, Zinfandel, Dry Creek Valley, 2015

$59

Dashe, Reserve, Zinfandel, Dry Creek Valley, 2017

$75

Hartford Court, Highwire Vineyard, Old Vine Zinfandel, Russian River Valley, 2011

$90

Martinelli, Giuseppe & Luisa, Zinfandel, Russian River Valley, 2015

$135

Beran, Zinfandel, Sonoma County, 2013

$55

Seghesio, Zinfandel, Sonoma County, 2016

$69
Champagne
Nicolas Feuillatte, Champagne, Chouilly, NV

$26

Nicolas Feuillatte, Champagne, Chouilly, NV

$110

Dom Pérignon, Champagne, Épernay, 2009

$395

Moët & Chandon, Rosé Impérial, Champagne, Épernay, NV

$30

Moët & Chandon, Impérial, Champagne, Épernay, NV

$99

Nicolas Feuillatte, Palmes d'Or, Champagne, Épernay, 2006

$235

Delamotte, Champagne, Le Mesnil-sur-Oger, NV

$125

Henriot, Souverain, Champagne, Reims, NV

$100

Krug, Grande Cuvée, Champagne, Reims, NV

$395

Louis Roederer, Cristal, Champagne, Reims, 2006

$425

Veuve Clicquot, Yellow Label, Champagne, Reims, NV

$79

Veuve Clicquot, Yellow Label, Champagne, Reims, NV

$145

Veuve Clicquot, La Grande Dame, Champagne, Reims, 2006

$575

Veuve Clicquot, La Grande Dame, Champagne, Reims, 2006

$325

Laurent-Perrier, Ultra Brut, Champagne, Tours-Sur-Marne, NV

$132
Sparkling Wine
Chandon, Sparkling Wine, California, NV

$18

Iron Horse, Ocean Reserve, Champagne, Green Valley of Russian River Valley, 2011

$93

Francis Ford Coppola, Sofia, Sparkling Wine, Monterey County, 2017

$69

Mumm Napa, Brut Prestige, Sparkling Wine, Napa Valley, NV

$65

Schramsberg, Sparkling Wine, North Coast, 2014

$89

Jansz, Premium Cuvée, Sparkling Wine, Tasmania, NV

$68

Szigeti, Méthode Traditionelle, Grüner Veltliner, Neusiedlersee, NV

$55

Gratien & Meyer, Sparkling Wine, Crémant de Loire, 2017

$69

Banfi, Rosa Regale, Brachetto, Brachetto d'Acqui DOCG, NV

$14

Ca' del Bosco, Cuvée Prestige, Franciacorta DOCG, NV

$95

Vietti, Cascinetta, Moscato, Moscato d'Asti DOCG, 2018

$64

Fizz56, Brachetto, Piemonte Brachetto DOC, NV

$45

La Marca, Prosecco, Prosecco DOC, NV

$64

Ferrari, Sparkling Wine, Trento DOC, NV

$69
Large Formats
Silver Oak, Cabernet Sauvignon, Alexander Valley, 2012

$325

Silver Oak, Cabernet Sauvignon, Alexander Valley, 2012

$695

Silver Oak, Cabernet Sauvignon, Alexander Valley, 2012

$1,295

Burly, Cabernet Sauvignon, Napa Valley, 2011

$310

Caymus, Cabernet Sauvignon, Napa Valley, 2018

$325

Duckhorn, Cabernet Sauvignon, Napa Valley, 2014

$299

Patz & Hall, Dutton Ranch, Chardonnay, Russian River Valley, 2013

$195

Quintessa, Red Blend, Rutherford, 2015

$1,380

Moët & Chandon, Impérial, Champagne, Épernay, NV

$250

Laurent-Perrier, Champagne, Tours-Sur-Marne, NV

$175

Fontanafredda, Serralunga d'Alba, Barolo DOCG, 2011

$185
oyster bar
* HAMMERSLEY

WASHINGTON

* PICKERING PASS

WASHINGTON

* BEAU SOLEIL

NEW BRUNSWICK

* RASPBERRY POINT

P.E.I.

* PICKLE POINT

P.E.I.

* PEMAQUID

MAINE

* DUXBURY

MASSACHUSETTS

* SALT POND

RHODE ISLAND

* WHITE STONE

VIRGINIA

* WAR SHORE

VIRGINIA

* BATTLE CREEK

VIRGINIA
appetizers
*SPICY TUNA POKE

Crispy Wontons, Wasabi Emulsion

GRILLED OYSTERS ROCK

Spinach Persillade, Nueske's Bacon, Parmesan

SHRIMP & GRITS

Cajun Butter Sauce

CHESAPEAKE BAY STYLE CRAB CAKE

Creamy Mustard Mayonnaise

ESCARGOTS BOURGUIGNONNE

Burgundy Butter And Puff Pastry

GRILLED MEDITERRANEAN OCTTOPUS

Green Papaya, Jicama, Cashews, Thai basil, Lime
prime steakhouse cuts
USDA CERTIFIED PRIME BEEF
6 OZ. CENTER-CUT FILET MIGNON

10 OZ. CENTER-CUT FILET MIGNON

16 OZ. PRIME NEW YORK STRIP

22 OZ. BONE IN PRIME RIBEYE

PAN-ROASTED CHICKEN CHOP
simply prepared
brushed with lemon butter
MARYLAND ROCKFISH

"MSC" CERTIFIED CHILE SEABASS

NICELAND SALMON

MAINE JUMBO SCALLOPS

AUSTRALIA BARRAMUNDI

PANAMA MAHI MAHI

LIVE MAINE LOBSTER
Chef specialties
THE OCEANAIRE COBB SALAD

Lump Blue Crabmeat

THE OCEANAIRE BURGER

Caramelized Onions, Bacon, Cheddar & Louis Dressing

SHRIMP SCAMPI

Tomatoes, Garlic Butter, Angel Hair

CHESAPEAKE BAY STYLE CRAB CAKES

Mustard Mayonnaise

GRILLED NICELAND SALMON

Cantonese Vegetables, Udon Noodles, Passion Fruit-Miso

"BLACK & BLUE" AUSTRALIA BARRAMUNDI

Cajun Seasoning, Caramelized Onions, Blue Cheese Butter
fresh seafood
CRAB CAKE CLUB

Bacon, Lettuce, Tomato, Mustard Mayo

ACHIOTE SPICED FISH TACOS

Alaska Cod, Corn Tortilla, Chili-Lime Remoulade

CRAB CAKE SLIDERS

Creole Remoulade, Iceberg Lettuce, Roma Tomatoes

BAJA FRIED SHRIMP TACOS

Crispy Fried Jumbo Shrimp, Corn Salsa

BLACKENED ALASKA COD SANDWICH

Tomato, Red Onion & Creole Cabbage Slaw

MAINE LOBSTER ROLL

Fresh Lobster, Old Bay
enrichments
ANGRY

LUMP BLUE CRAB

LUMP BLUE CRAB, CAPER "LOUIS"

5 OZ. SOUTH AFRICA LOBSTER TAIL
sides
GRILLED ASPARAGUS

HASHED BROWNS

A'la Oceanaire

LOBSTER MAC & CHEESE

SAUTEED SPINACH

PARMESAN-ROSEMARY TRUFFLE FRIES

CREAMED CORN
soups & salads
NEW ENGLAND CLAM CHOWDER

MARYLAND CRAB SOUP

Garden Vegetables, Tomato & Old Bay Broth, Blue Crab

SEAFOOD CHOPPED SALAD

Crabmeat, Shrimp, Feta Cheese, Greek Vinaigrette

CHOPPED HOUSE GREEN SALAD

Oceanaire Vinaigrette

CAESAR SALAD

Housemade Croutons, Shaved Parmesan

ICEBERG LETTUCE WEDGE

Bacon, Tomato, Bleu Cheese Dressing

BEET & GOAT CHEESE SALAD

Red & Yellow Beets, Walnuts, Golden Raisins, Watercress White Balsamic Vinaigrette

TOMATO & MOZZARELLA SALAD

Heirloom Tomatoes, Balsamic, Basil
appetizers
SHRIMP & GRITS

Cajun Butter Sauce

*SPICY TUNA POKE

Crispy Wontons, Wasabi Emulsion

CHESAPEAKE BAY STYLE CRAB CAKE

Creamy Mustard Mayonnaise

ESCARGOTS BOURGUIGNONNE

Burgundy Butter And Puff Pastry

GRILLED OYSTERS ROCK

Spinach Persillade, Nueske's Bacon, Parmesan

STEAMED P.E.I. MUSSELS

Andouille, Cherry Tomatoes, White Wine

GRILLED MEDITERRANEAN OCTOPUS

Green Papaya, Jicama, Cashews, Thai Basil, Lime
fresh seafood
Chicken Fried Lobster

Truffled Honey, Cheesy Grits, Hot Sauce

CHESAPEAKE BAY STYLE CRAB CAKES

Creamy Mustard Mayonnaise

JUMBO SHRIMP SCAMPI

Tomatoes, Garlic Butter, Angel Hair Pasta

Shellfish Mixed Grill

5 oz. Lobster Tail, Jumbo Scallops, Shrimp, Asparagus

GRILLED FILET MIGNON AND SHRIMP

Parmesan Garlic Butter

PREMIUM ALASKA RED KING CRAB

Dutch Harbor Alaska Served With Drawn Butter

WHOLE ROASTED GREEK BRANZINO

Mediterranean Vinaigrette
prime steakhouse cuts
USDA CERTIFIED PRIME BEEF
6 OZ. CENTER-CUT FILET MIGNON

10 OZ. CENTER-CUT FILET MIGNON

16 oz. PRIME NY STRIP

22 OZ. BONE IN PRIME RIBEYE

PAN-ROASTED CHICKEN CHOP
simply prepared
brushed with lemon butter
MARYLAND ROCKFISH

JUMBO MAINE SCALLOPS

"MSC" CERTIFIED CHILEAN SEA BASS

AUSTRALIA BARRAMUNDI

NICELAND SALMON

PANAMA MAHI MAHI

LIVE MAINE LOBSTER
chef's specialties
GRILLED NICELAND SALMON

Cantonese Vegetables, Udon Noodles, Passion Fruit-Miso

SEARED JUMBO MAINE SCALLOPS

Grilled Asparagus & Mushroom Risotto, Short Rib Demi

SEARED MARYLAND ROCKFISH

Baby Bok Choy, Shiitake, Dashi Broth

SEARED PANAMA MAHI MAHI

Broccoli, Shiitake Mushrooms, Heirloom Tomatoes Black Garlic Emulsion
enrichments
ANGRY

LUMP BLUE CRAB

LUMP BLUE CRAB, CAPER "LOUIS"

5 OZ. SOUTH AFRICA LOBSTER TAIL
sides
GRILLED ASPARAGUS

HASHED BROWNS

A'la Oceanaire

LOBSTER MAC & CHEESE

SAUTÈED SPINACH

CREAM CORN

BRUSSELS SPROUTS
soups & salads
NEW ENGLAND CLAM CHOWDER

MARYLAND CRAB SOUP

Garden Vegetables, Tomato & Old Bay Broth, Blue Crab

CHOPPED HOUSE GREEN SALAD

Oceanaire Vinaigrette

CAESAR SALAD

Housemade Croutons, Shaved Parmesan

ICEBERG LETTUCE WEDGE

Bacon, Tomato, Bleu Cheese Dressing

TOMATO & MOZZARELLA SALAD

Heirloom Tomatoes, Buffalo Mozzarella, Basil

BEET & GOAT CHEESE SALAD

Red & Yellow Beets, Watercress, Walnuts, Gold Raisins White Balsamic Vinaigrette
oyster bar
* HAMMERSLEY

WASHINGTON

* PICKERING PASS

WASHINGTON

* BEAU SOLEIL

NEW BRUNSWICK

* RASPBERRY POINT

P.E.I.

* PICKLE POIINT

P.E.I.

* PEMAQUID

MAINE

* DUXBURY

MASSACHUSETTS

* SALT POND

RHODE ISLAND

* WHITE STONE

VIRGINIA

* WAR SHORE

VIRGINIA

* BATTLE CREEK

VIRGINIA
Awards
"Award of Excellence" - Wine Spectator, (2017, 2018)
"Diners' Choice Award" – OpenTable, (2017)
"Certificate of Excellence Award for Superior Service" - TripAdvisor, (2016)
"America's Most Popular Fine Dining Restaurants" - Urban Spoon, (2014)
"Top Seafood Restaurant" - Dining Out Magazine, (2012)
Zagat Certification - (2012)
DiRoNA Award - Distinguished Restaurants of North America, (2008, 2012)
American Institute of Wine & Food, National Capital Area "People's Choice Award", Best Crab Cakes - (2009)
"Best Of" Awards, Reader's Choice - Best Seafood - Dining Guide of Washington D.C., (2009)
"Top Power Spot" Restaurant Award - Washington D.C. Metropolitan Area Restaurant Association, (2008)
"Award of Excellence" - Wine Spectator, (2007, 2008, 2009)