Main content starts here, tab to start navigating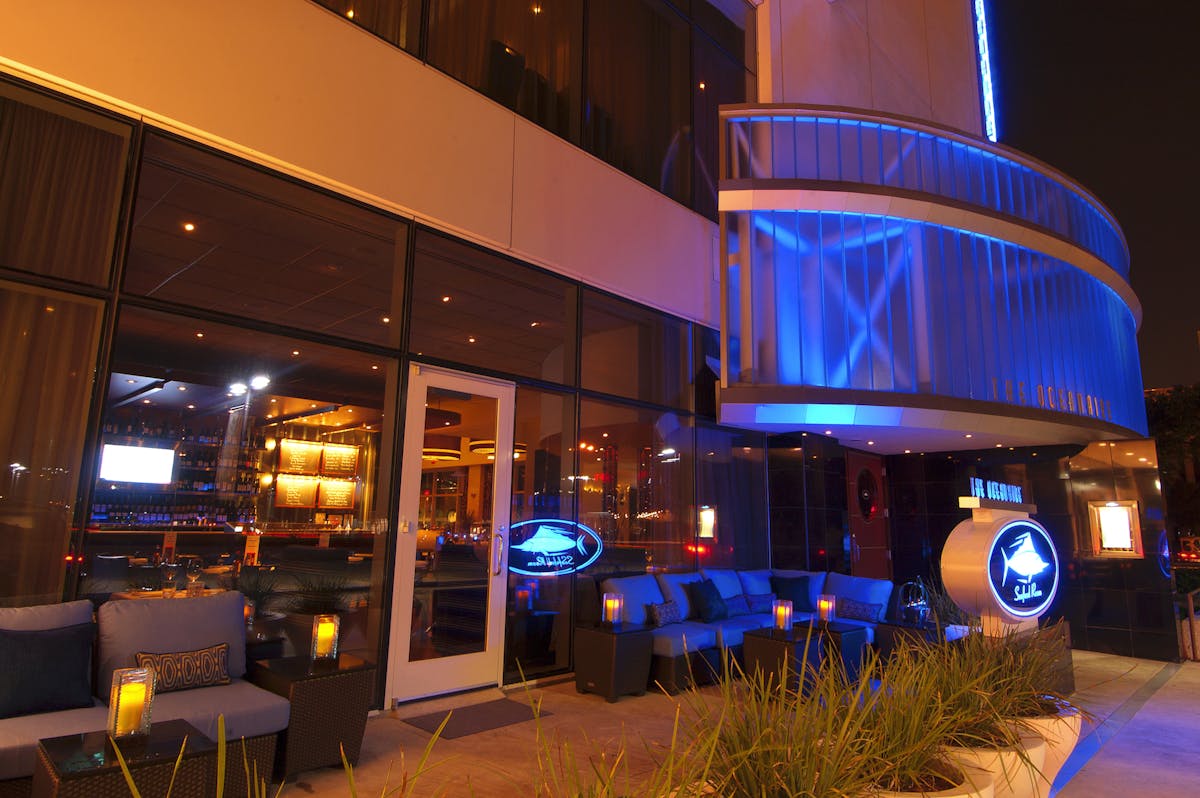 Slide 1 of 4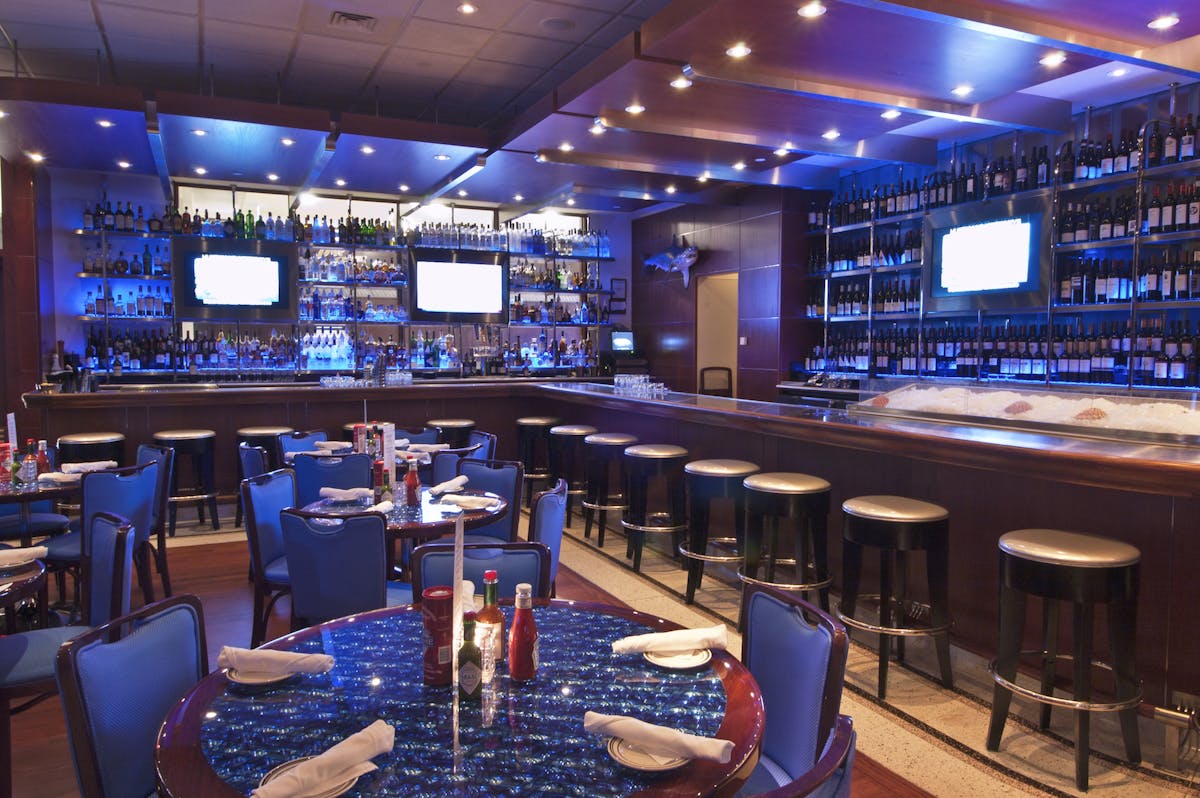 Slide 2 of 4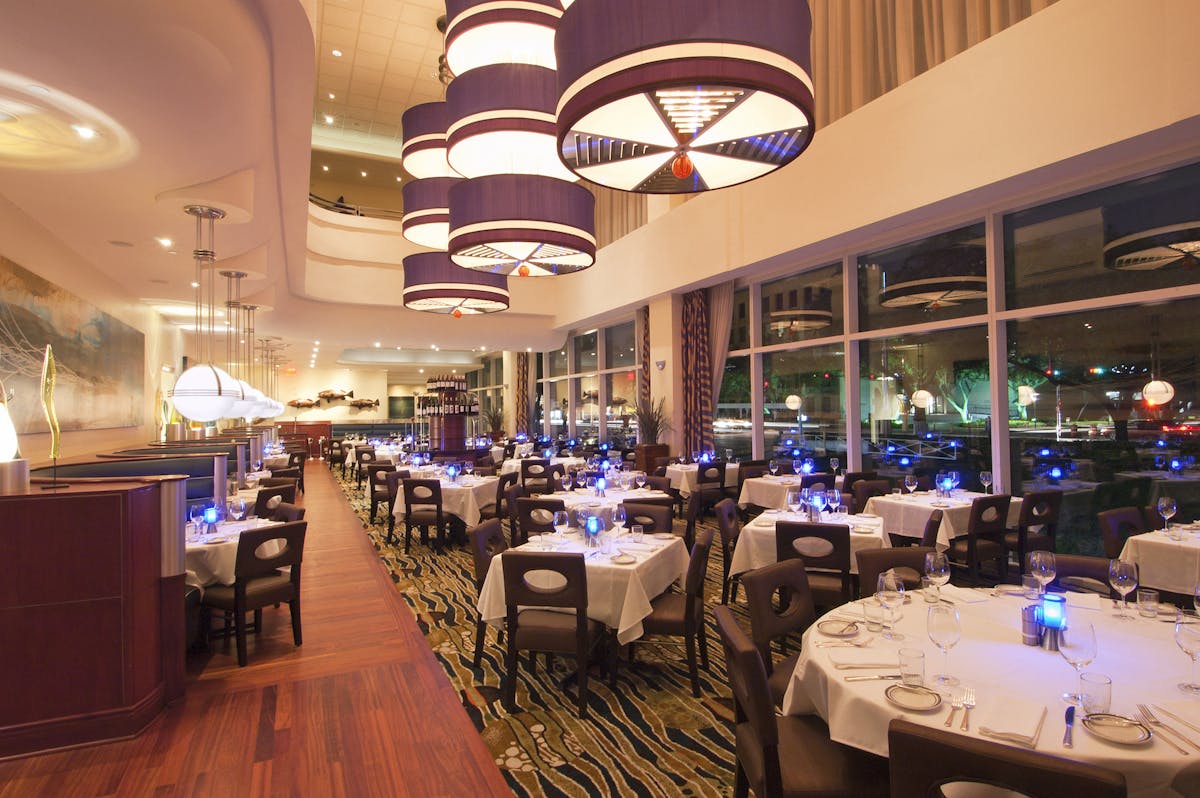 Slide 3 of 4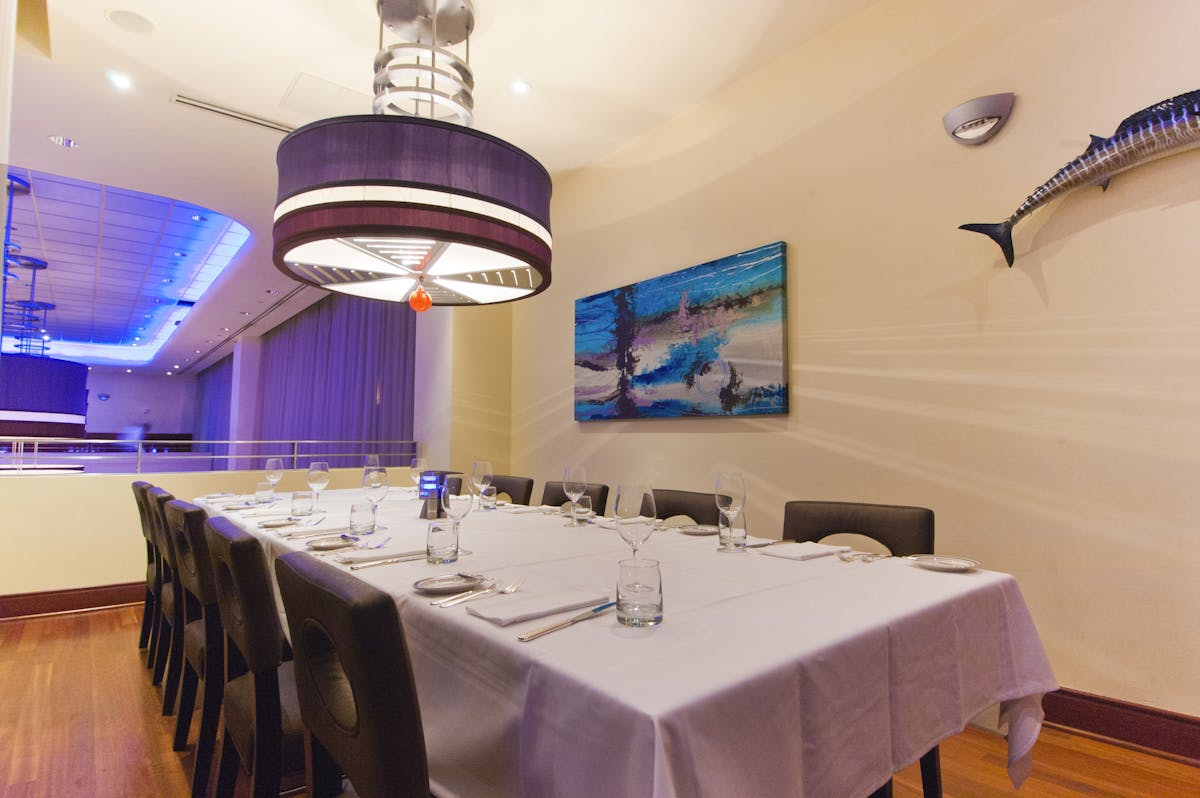 Slide 4 of 4
Dining Room Now Open!
As we reopen our dining rooms, we will continue to practice and take part in preventative measures to ensure the safety of you and your family. We look forward to serving you once again.

Valet at Lunch & Dinner $11 (when available).
Menus
Dinner Menu also available all day!
Oceanaire "S.S." Cobb Salad

Scallop, Shrimp, Egg, Bacon, Cheese, Tomato, Olive

$22

Seafood Chopped Salad

Crab Meat, Shrimp, Feta Cheese, Greek Dressing

$26

Crab Cake Sliders

Mustard Mayonnaise, Iceberg Lettuce, Roma Tomatoes. Served with French Fries.

$25

The Oceanaire Burger

Bacon, Cheddar, Caramelized Onions & Louis Dressing. Served with French Fries.

$17

Sesame Grilled Shrimp & Fried Rice

Lemongrass, Ginger, Chilies & Soy Caramel

$22

Achiote Spiced Fish Tacos

Chili-Lime Mayo, Pickled Cabbage Slaw, Roasted Corn Pico de Gallo & Cotija Cheese. Served with French Fries.

$16

Lobster Quesadilla

Lobster, White & Yellow Cheddar, Pico de Gallo, Dynamite Aioli

$19

Ahi Tuna Burger

Wasabi Aioli, Wakame, Pickled Ginger. Served with French Fries.

$27
Oysters
*SCORTON CREEK

Massachusetts

$4

*Quivett Creek

Massachusetts

$4

*Mill Creek

Massachusetts

$4

*Funky Cold Medinas

Massachusetts

$4
Appetizers
Jumbo Shrimp Cocktail

Cocktail Sauce

$24

Grilled Oysters Rock

Spinach Persillade, Nueske's Bacon, Parmesan

$21

Chesapeake Bay Style Crab Cake

Mustard Mayonnaise

$25

Buttermilk Fried Calamari

Chiles, Chef's Dipping Sauces

$19

Shrimp & Grits

Cajun Butter Sauce

$19

SHRIMP DIABLO

BACON WRAPPED, JALAPEÑO, CREAM CHEESE

$17

House Smoked Salmon

Whole Grain Mustard Mayo, Pickled Shallots, Capers

$13

STONE CRAB CLAW

Mustard Mayo, Lime Wedge

$25

Oceanaire Classic Sourdough Bread And Relish Tray

$3.50
Soup & Salad
New England Clam Chowder

Smoked Bacon, New Potatoes, Westminster Crackers

$13

TRADITIONAL SEAFOOD GUMBO

CRAB, SHRIMP, ANDOUILLE SAUSAGE

$13

Seafood Chopped Salad

Crabmeat, Shrimp, Feta Cheese, Greek Vinaigrette

$26

Chopped House Green Salad

Oceanaire Greek Vinaigrette

$12

Caesar Salad

Croutons, Shaved Parmesan

$12

Iceberg Lettuce Wedge

Bacon, Tomato, Bleu Cheese Dressing

$13

HEIRLOOM TOMATO & BURRATA SALAD

Balsamic Reduction & Fresh Basil

$14
Chef's Specialties
*Whole Dover Sole

Lemon Caper Butter

$54
Chef's Specialties
Chesapeake Bay Style Crab Cakes

Mustard Mayonnaise

$48
Chef's Specialties
Grilled Filet Mignon And Shrimp

Parmesan Garlic Butter

$45
Chef's Specialties
Chesapeake Bay Style Crab Cakes

Mustard Mayonnaise

$48

Jumbo Shrimp Scampi

Tomatoes, Garlic Butter, Angel Hair Pasta

$34

Chicken Fried Lobster

Truffled Honey, Cheesy Grits, House Hot Sauce

$42

Shellfish Mixed Grill

5 oz. Lobster Tail, Jumbo Scallops, Shrimp, Asparagus

$54

Dutch Harbor Alaska Red King Crab

Served With Drawn Butter

per MP

Seared Sesame Crusted Wild California Bluefin Tuna

Wakame, Pickled Ginger, Sriracha Aioli, Soy Sauce

$45

*Blackened Mauritus Redfish

Bacon, Smoked JALAPEÑO, Spinach, Bleu Cheese

$40

*Panama Mahi Mahi

Coconut Creamed Spinach, Roasted Sweet Potato, Pineapple Red Pepper Glaze

$42

Maine Lobster Thermidor

Crab Meat , Parmesan, Sherry Lobster Cream

$70

*Wild Florida Swordfish Au Poivre

Roasted Wild Mushrooms, Cognac Cream

$38

Lobster Fried Rice "Shanghai Style"

Crispy fried lobster tail, fried egg

$42
Simply Prepared
Brushed With Lemon Butter
*Wild California Bluefin Tuna

$40

*New Zealand Ora King Salmon

$36

*Wild Chilean Amberjack

$33

*Mauritius Redfish

$34

*Wild Chilean Sea Bass

$45

*Wild Florida Swordfish

$32

*Panama Mahi Mahi

$36

Jumbo Massachusetts Sea Scallops

per MP

8 oz. West Australia Lobster Tail

$59

14 oz. West Australia Lobster Tail

$119
Prime Steakhouse Cuts
Usda Certified Prime Beef
6 oz. Center-Cut Filet Mignon

$40

10 oz. Center-Cut Filet Mignon

$55

16 oz. Prime New York Strip

$60

22 oz. Bone In Prime Ribeye

$66

Pan-Roasted Chicken Chop

$23
Enrichments
Angry

$5

Black & Bleu

$6

Cold Water Lobster Tail

$26

Truffle Butter

$5
Sides
Truffle Whipped Potatoes

$13

Grilled Asparagus

$13

Hashed Browns

$13

A'la Oceanaire – ADD $3

Garlic Green Beans

$13

Lobster Mac & Cheese

$30

Lobster Fried Rice

$26

Sautéed Spinach

$13

Sautéed BROCCOLINI

$13

Roasted Cauliflower

$13

Parmesan Truffle Fries

$13
$75
Chateau Montelena Napa Valley Chardonnay
$99
Chateau Montelena Napa Valley Cabernet Sauvignon
$149
Caymus Napa Valley Cabernet Sauvignon

Duckhorn Napa Valley Cabernet Sauvignon

Orin Swift "Papillon" Napa Valley Red Blend

Stag's Leap Wine Cellars "Artemis" Napa Valley Cabernet Sauvignon

Cakebread Napa Valley Cabernet Sauvignon
Premium Pours By Coravin™
Cabernet Sauvignon, Adaptation, Napa Valley

$30

Cabernet Sauvignon, Hall, Coeur, St. Helena

$30

Chardonnay, Gran Moraine, Yamhill-Carlton District

$25

Chardonnay, Paul Hobbs, Russian River Valley

$25

Chardonnay, Thierry and Pascale Matrot, Les Chalumeaux, Puligny-Montrachet 1er Cru

$50

Pinot Noir, Patz & Hall, Hyde Vineyard, Carneros

$40

Red Blend, Justin, Isosceles, Paso Robles

$35

Red Blend, Orin Swift, Papillon, Napa Valley

$45
Sparkling
La Marca, Prosecco, Prosecco DOC

Glass $13

Bottle $64

Chandon Brut Classic 187, Sparkling, California

Glass $18

Nicolas Feuillatte, Brut 187, Chouilly

Glass $26

Castello del Poggio, Moscato D'Asti, Piedmont

Glass $13

Bottle $51

Nicolas Feuillatte, Rose, Brut 187, Chouilly

Glass $30
White
Pebble Lane, Chardonnay, Monterey County

Glass $13

Bottle $47

Butter Block, Chardonnay, Santa Maria Valley

Glass $14

Bottle $55

Stag's Leap Wine Cellars "Hands of Time", Chardonnay, Napa Valley

Glass $16

Bottle $63

Sonoma-Cutrer "Russian River Ranches", Chardonnay, Sonoma Coast

Glass $17

Bottle $67

Cantina Terlano, Pinot Grigio, Alto Adige DOC

Glass $16

Bottle $63

High Heaven "Starshower", Riesling, Columbia Valley

Glass $13

Bottle $51

Giesen, Sauvignon Blanc, Marlborough

Glass $12

Bottle $47

Duckhorn, Sauvignon Blanc, Napa

Glass $17

Bottle $67
Rosé
Pebble Lane, Rosé of Pinot Noir, Monterey County

Glass $12

Bottle $47

Daou, Rosé, Paso Robles

Glass $15

Bottle $59
Red
Pebble Lane, Cabernet Sauvignon, Monterey County

Glass $12

Bottle $47

Raymond "Primal Cut", Cabernet Sauvignon, North Coast

Glass $18

Bottle $71

Austin Hope, Cabernet Sauvignon, B19, Paso Robles

Glass $16

Bottle $63

Toby Tylor, Cabernet Sauvignon, Walla Walla

Glass $20

Bottle $79

Vina Cobos "Felino", Malbec, Mendoza

Glass $14

Bottle $55

14 Hands, Merlot, Columbia Valley

Glass $13

Bottle $51

Pebble Lane, Pinot Noir, Monterey County

Glass $12

Bottle $47

The Harrison, Pinot Noir, Willamette Valley

Glass $18

Bottle $71

Belle Glos, "Balade", Pinot Noir, Santa Rita Hills

Glass $19

Bottle $75

The Calling "Visionary", Red Blend, Alexander Valley

Glass $16

Bottle $63
Cocktails 15
Appletini 2.0

Crown Royal Regal Apple Whisky, Ketel One Vodka, Lime, Granny Smith Apple

Blackberry Smash

Disaronno Originale, Knob Creek Bourbon, Blackberries, Mint, Cranberry Juice

Blood Orange Reviver

Effen Blood Orange Vodka, Lillet Blanc, Patrón Citrónge Orange, Pernod, Lemon

Espresso Martini

Grey Goose Vodka, Kahlúa, Espresso, Espresso Beans

Guava Daiquiri

Bacardi Superior Rum, Monin Guava Syrup, Pineapple Juice, Fresh Lime Juice

High Plains Drifter

Russell's Reserve 10 Year Bourbon, Bénédictine D.O.M., Grand Marnier, Bitter Truth Pimento Dram, Fresh Lemon Juice, Fee Brothers Orange Bitters

Nouveau Paloma

Casamigos Blanco Tequila, Liber & Co. Grapefruit Shrub, Pink Grapefruit, Calabria 'Private Bin' Moscato

Oceanaire 2.0

Our Signature Cocktail Made With Bacardi Superior Rum, Domaine De Canton Ginger, Fresh Lime Juice, Monin Banana Syrup, and Senior & Co. Genuine Blue Curaçao

Patrónarita

Patrón Silver Tequila, Patrón Citrónge Orange, Lime

Sparkling Raspberry Sangria

Maschio Prosecco, Caravella Limoncello, Aperol, Raspberries, Lemon, Lime

Spiced Pear Mule

Grey Goose La Poire Vodka, St. George Spiced Pear, Mint, Lime, Gosling's Ginger Beer

Stout Old Fashioned

Bulleit Rye Whiskey, Guinness Syrup, Angostura Bitters, Orange

Aperol Spritz

Aperol, La Marca Prosecco and Soda served with fresh orange

Perfect G n T

Hendrick's Gin, St. Germaine Elderflower Liqueur, Fever Tree Tonic Water
Bespoke Classics 25
Millionaire Margarita

Casamigos Reposado, Grand Marnier, Orgeat, Agave Syrup, Fresh Lime Juice

Royal Side Car

Remy 1738 Accord Royal Cognac, Cointreau, Lemon Juice, Cinnamon Sugar Rim
Appetizers
Jumbo Shrimp Cocktail

Cocktail Sauce

$24

Lump Crabmeat Cocktail

Cocktail Sauce, Creamy Mustard Mayonnaise

$28

Chesapeake Bay Style Crab Cake

Creamy Mustard Mayonnaise

$25

Shrimp & Grits

Jumbo Shrimp, White Cheddar Grits, Creole Butter Sauce

$19

Buttermilk Fried Calamari

Chiles, Chef's Dipping Sauces

$19

Oceanaire Signature Sourdough Bread & Relish Tray

$3.50
Soups & Salads
New England Clam Chowder

$13

Chopped House Green Salad

Tomato, Cucumbers, Red Onion, Greek Vinaigrette

$12

Caesar Salad

Croutons, Shaved Parmesan

$12

Seafood Chopped Salad

Crabmeat, Shrimp, Feta Cheese, Greek Vinaigrette

$26

Grilled Blackened Caesar Salad

Blackened Shrimp, Salmon or Chicken Breast

$21
Chef Specialties
Chesapeake Bay Style Crab Cakes

Mustard Mayonnaise

$48

Chicken Fried Lobster

Truffled Honey, Cheesy Grits, House Hot Sauce

$42

Oceanaire Steak & Cake

6 oz. Filet Mignon and Signature Crab Cake

$49

Filet Mignon & Shrimp

Parmesan Garlic Butter

$45

Jumbo Shrimp Scampi

Tomatoes, Garlic Butter, Angel Hair Pasta

$34

Shellfish Mixed Grill

5 oz. Lobster Tail, Jumbo Scallops, Jumbo Shrimp, Asparagus

$48

Lobster Fried Rice "Shanghai Style"

Crispy fried lobster tail, fried egg

$42
Simply prepared
Extra Virgin Olive Oil & Lemon
Responsibly Sourced Salmon

$29

New Bedford Sea Scallops

$42

5 oz. Cold Water Lobster Tail

$24

Dutch Harbor Alaska Red King Crab

$85

1.5 lb Live Maine Lobster

$54
USDA Prime Steakhouse Cuts
6 oz. Center-Cut Filet Mignon

$40

10 oz. Center-Cut Filet Mignon

$55

22 oz. Prime Bone-In Ribeye

$66

16 oz. Prime New York Strip

$60
Sides
Truffle Whipped Potatoes

$13

Grilled Asparagus

$13

Chefs Seasonal Vegetable

$13

Parmesan Truffle Fries

$13

Lobster Fried Rice

$26

Mac & Cheese

$13

Hashed Browns

$13

Hashed Browns a'la Oceanaire

$16

Lobster Mac & Cheese

$30
Sandwiches
Served with Sea Salt Thick Cut Fries OR House Chopped salad
The Oceanaire Burger

Cheddar Cheese, Bacon, Caramelized Onions & Louis Dressing

$17

Crab Cake Club Sandwich

Bacon, Lettuce, Tomato, Creamy Mustard Mayo

$27
Kids
Served with Fresh Fruit & French Fries
Chicken Fingers

$12

Grilled Cheese

$12

Kid's Cheeseburger

$12
Desserts
Cheesecake

$12

Key Lime Pie

$12

Flourless Chocolate Torte

$15
Awards
"Award of Excellence" - Wine Spectator, (2017, 2018)
"10 Places to Eat In and Near The Galleria" - Zagat Houston (2014)
"Best of the Best Seafood Houses 2013" - Tom Horan's America's Top Ten Club
"Best Place to Impress an Out-of-Town-Client" - Houston Business Journal Gourmet's Choice - (2008)
"Everything about the elegant oyster bar at this Galleria newcomer inspires confidence" - (Houston Chronicle 2007)
"In a city overflowing with seafood restaurants, Oceanaire Seafood Room stands out." - Culture Map Houston